WENZHOU: Two people died and four were injured in a storm-induced landslide late Monday in China's typhoon-swept eastern Zhejiang Province, fire-fighters said Tuesday.
The landslide occurred at around 10:21 pm in Pengxi township, Taishun county, after five straight days of continuous rain brought by typhoon Morakot.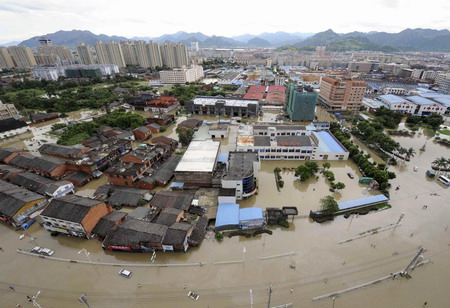 A general view shows a flooded area after typhoon Morakot hit Cangnan county of Wenzhou, Zhejiang province August 10, 2009. A massive landslide occurred in Pengxi Township, Taishun County of Wenzhou City in Zhejiang Province Monday night, toppling a four-storey residential building and burying six residents. [Agencies] 

Related readings:


 Typhoon Morakot eases but kills 6 on mainland


 9 killed as Typhoon Etau hits western Japan


 Hotel swept into river after typhoon


 Typhoon Morakot forces evacuation of 970,000


 10 still missing as typhoon Morakot nears
The landslide toppled a four-storey residential building, which buried six adults who were sleeping inside. Fire-fighters recovered the bodies of two women, aged 47 and 62.
The other four, one seriously injured and three slightly injured, were rescued and taken to Taishun People's Hospital. One of the injured had been discharged from the hospital, said a hospital spokesman.
The meteorological station in Taishun recorded rainfall of 1,241 mm from August 6 to 10, representing the heaviest typhoon-induced rainfall observed by a single meteorological station in Zhejiang in six decades.