An environmental protection bureau in Hunan province is allegedly forcing prospective employees to pay 10,000 yuan ($1,463) for jobs.
A 32-year-old environment inspector in the Xupu county bureau said the scheme has been an unwritten rule for new hires since 2000.
"It has become an explicit must-do. To walk in the door, one has to lend first. You know, the bureau is a decent employer by all means," said the inspector, surnamed Wang.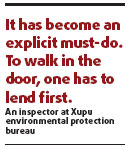 "All of the newcomers are assigned to inspection posts in different townships or villages; in other words, they buy themselves a good job in a good organization."
According to media reports, the bureau began to recruit excessively in 2005, and there are now 80 more employees than the official quota.
The province's environmental protection bureau said on its website that the Xupu office was "overstaffed".
Inspectors are responsible for monitoring the environment and collecting fees from companies that discharge waste.
Related readings:


 Department demands money for employment


 Employment situation still grave in China: official


 Many degrees of employment


 Colleges cook up employment data


 University sets up post-bachelor courses for employment
Scattered in rural areas of Xupu county are 251 industrial companies involved in heavy metals mining and ore washing, according to Chengdu Business Daily.
These businesses pay more than four million yuan to authorities every year to purchase "credits", which allow companies to discharge waste.
The report said that 60 percent of these fees are transferred to the county's finance body, which is responsible for paying the wages of the environmental protection bureau.
The newspaper reported that the bureau wants to collect nearly four million yuan in discharging permits and to fine companies 300,000 yuan this year - with an incentive scheme for inspectors who collect the fines.
Wang said he joined the bureau after graduating from college in 2000, and was told to pay the sum before starting work.
"They did not return our money but hired several more last year even though we are doing well, financially," he said.
"Each of the seven colleagues who joined the bureau with me in the same year was given a receipt for the loan, which says the bureau will pay it back in four years - a promise never honored."
Wang said he tried four times to demand his money. All of the attempts were rejected.
He said his colleagues also were refused.
Some new, incompetent hires, according to Wang, do not qualify but earn almost the same amount as he.
The newspaper reported that most of the new inspectors work only one or two days a week. Some operate private businesses in the county.
Shu Peikang, general manager of a local silicon mining company with 15,000 tons of metasilicic acid and 300,000 tons of silica sands production capacity, told China Daily yesterday that his company adheres to environment policies and only bought 20,000 yuan of discharge credit from the bureau last year.
"We do not milk commissions out from credit payment we collected. Revenue and spending by the bureau are managed separately here," director of the county's bureau, Xiang Changjing was quoted by the newspaper as saying.
The Xupu county finance and environmental protection bureaus could not be reached for comment yesterday.