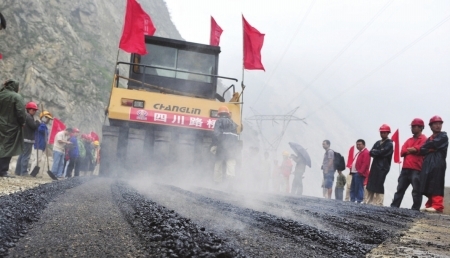 Construction workers pave the Chediguan Bridge which collapsed due to rockslide Friday. [scol.com.cn]
A bridge that was heavily damaged by a rockslide caused by continuous rains over a nearby mountain will resume service Friday morning after six days of reconstruction, according to newssc.net, a Sichuan-based news website.
The rockslide happened around 5am July 25, killing six people and injuring twelve more, the China Daily reported on Monday.
More than 100 meters of the 300-m-long Chediguan Bridge collapsed, Xinhua News Agency said.
The bridge is part of the Number 213 national highway, which runs all the way up to Gansun province. It was a vital link to Wenchuan, which was the epicenter of last year's devastating earthquake, during the recovery and reconstruction efforts. The quake left about 87,000 people dead or missing.