SHANGHAI: A kindergarten teacher has been detained after a 3-year-old boy hung to death in her classroom in Ningbo, Zhejiang province.
The boy, Gao Chenxi, reportedly suffocated yesterday after his clothing got caught on the grating of a classroom window, causing him to hang in the air.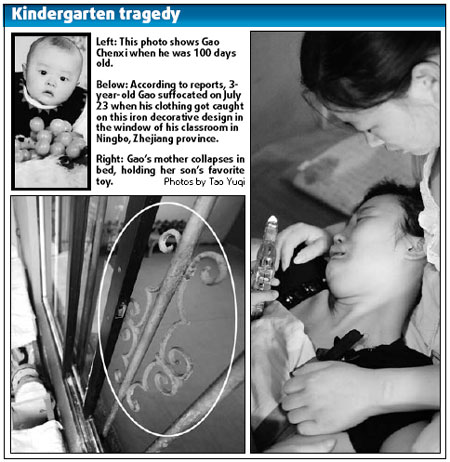 The child's teacher, Liu Xiaoling, had allegedly beaten him on the head with a plastic stick before he ran away from her toward the window, police said.
An autopsy showed scrapes on his head that suggested his teacher beat him, police said.
Liu has been detained for "intentional injury resulting in death", police said.
Related readings:


 Drowning boy's cry for help mistaken for a prank


 Boy, 6, bites rope to escape from kidnappers


 8-year-old Ky. boy found dead in church elevator


 Boy, 19, stuck in well for five days rescued


 Girl, 16, hires boy, 14, to kill her mother over affair
According to the country's criminal law, the charge carries a minimum jail sentence of 10 years and a maximum death sentence.
Local media reports said the boy's parents are demanding compensation of one million yuan from the kindergarten, which has already been closed. The two sides have not yet reached an agreement.
Zhenhai police are also stepping up checks and supervision at local kindergartens to prevent similar accidents from occurring.
But police said yesterday it is still unclear how the child choked - whether he was suffocated by his clothes hooked to the window, or by a "sticky fluid" found in his throat during the autopsy. The cause behind his choking might affect the penalty being meted out, they said.
"We've sent the liquid to Shanghai for testing and will release the results later," said an official surnamed Hu from the Zhenhai police department.
Liu earlier told police the boy was found in an unattended storeroom instead of the classroom, and that the incident had happened "within one minute" - from the time she beat the boy to his being taken down from the window.
But she later admitted it had happened in the classroom under her charge, and that she had lied to escape her responsibility.
Police also found that Liu did not take action to save the child until his lips turned blue from lack of air.