The Second Tianjin and Taiwan Investment cooperation conference kicked off last night in China's northern port city of Tianjin.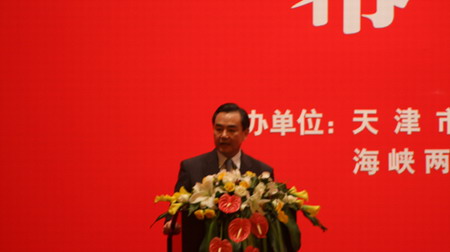 Wang Yi, director of the Taiwan Affairs Office of the State Council, addresses the opening ceremony. [chinadaily.com.cn] 
The conference, themed "Deepen Cooperation, Tackle the Difficult Time Together to Achieve Common Development and a Win-Win Situation", attracted huge attention from both sides of the Straits amid the current financial crisis.
Related readings:


 Tianjin: China's third fastest growing city


 Tianjin to auction Olympic items


 Tianjin Airlines to launch routes to Shenzhen and Ningbo


 Another National AAA tourist area in Tianjin


 Tianjin Airlines to launch Xi'an-Jinan-Dalian route
Wang Yi, director of the Taiwan Affairs Office of the State Council, addressed the opening ceremony, pointing out the significant progress made in cross-Strait relations since the first Tianjin and Taiwan Investment cooperation conference last year.
"Three agreements on opening regular flights, boosting cooperation in finance and cracking down on crime were reached and the mainland's enterprises were approved to invest in Taiwan by the Taiwan authorities, signaling the realization of a decades-long aspiration of comprehensive, direct and two-way links between the two sides," Wang said.
"Tianjin's economic growth rate reached 16.2% in the first half of the year despite the influence of the financial crisis, which in part is credited to Taiwan's investment. The close economic ties between Tianjin and Taiwan are a good example of both sides' win-win cooperation", he added.
Lien Chan, Honorary Chairman of Taiwan's ruling Kuomintang party, was also present at the conference. Lien also commented on the successful partnership taking place across the Straits.
"As the global financial turmoil slashes the world economy, the robust growth in Tianjin's economy is admirable. Like I said before, during the cooperation between both sides across the Straits, one plus one is bigger than two. I expect more cooperation from Tianjin and Taiwan in high technology industry," Lien said.
During the three-day conference, the Tianjin government will release new policies to support local enterprises invested by Taiwan and hold signing ceremonies for key programs in the Binhai New Area, a national development zone in Tianjin.
"We anticipate 19 Taiwanese enterprises will sign contracts with a total investment of 10 billion yuan", said Ren Xuefeng, Vice Mayor of Tianjin.
More than 230 Taiwanese enterprises were present at the conference. "So many Taiwanese entrepreneurs attend the conference because Taiwan and Tianjin compensate each other in many aspects," said one Taiwanese businessman.
Tianjin's economic ties with Taiwan are booming, with over 2,000 Taiwan-invested enterprises setting up shop in Tianjin up to last month, bringing an investment totaling $8.69 billion.