Inadequate knowledge about contraception is a major factor in the 13 million abortions performed in China every year, research shows.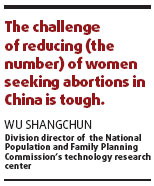 This is an unfortunate - and avoidable - situation, experts said, and improvements need to be made.
Li Ying, a professor at Peking University, said Wednesday that young people need more knowledge about sex.
A survey done by 411 Hospital of PLA (People's Liberation Army) in Shanghai, for example, found that less than 30 percent of callers to a hotline knew how to avoid pregnancy, and only 17 percent were aware of venereal diseases.
More than 70 percent said they did not know sexual transmission is the major contributor to the spread of HIV/AIDS.
Related readings:


 China mulls ban on sex-selection abortion


 China launches campaign to break sex taboos


 Schools lift the veil on early years sex education


 Abortion ad sends supermodel running to court


 Four kids in five view pornography online 


 No more secrecy on sex in cyber era
Li said Chinese parents are reluctant to teach their children about sex, so more needs to be done on sex education.
"Sex education needs to be strengthened, with universities and our society giving more guidance," she said.
Wu Shangchun, a division director of the National Population and Family Planning Commission's technology research center, told China Daily that research shows nearly half of the women who had abortions had not used any form of contraception.
"The challenge of reducing (the number) of women seeking abortions in China is tough," Wu said.
Yu Dongyan, a hospital gynecologist, said new mores have changed the social setting.
"Sex is no longer considered taboo among young people today, and they believe they can learn everything they need from the Internet. But it doesn't mean they've developed a proper understanding or attitude toward it," Yu said.
Government statistics show that about 62 percent of the women who have abortions are between 20 and 29 years old, and most are single.
Wu said the real number of abortions is much higher than reported, because the figures are collected only from registered medical institutions.
Many abortions, Wu said, are performed in unregistered clinics.
Also, about 10 million abortion-inducing pills, used in hospitals for early-stage abortions, are sold every year in the country, she said.
The Shanghai hotline, which offers help for pregnant women, has reported an increase in calls, mostly from women 18 and under.
Figures from 411 Hospital show that as many as 30 calls were received on its hotline some days this month, compared with about 10 per day in previous months.
Most callers had questions about what to do after becoming pregnant or how to get an abortion, said Yu.
Wu said birth control information mainly reaches young married couples.
The morning-after pill, which can be used within 120 hours of intercourse to prevent pregnancy, has been widely sold as emergency contraception since 1998, she said.
Wu said the pills have sold well, but she added that incorrect use is a problem.
Wu also said much information on the Internet about sex frequently is incorrect.
Sun Xiaohong, of the educational center of Shanghai's Population and Family Planning Commission, said she found it difficult to promote sex education in schools because some teachers and parents believe it will encourage sex.
Sun Aijun, a leading gynecologist at Beijing Union Hospital, said there also is a misconception among some women that the contraceptive pill is unsafe.
Sun said many unmarried couples choose to use condoms, but that this can be problematic because some women find it difficult to turn down requests from a partner not to use them.
Abortions cost about 600 yuan ($88). Since the 1990s, doctors have not asked for a woman's marital status when an abortion is performed.
There are about 20 million births in the country each year, Wu said.