SHANGHAI: Five urban management officials have been dismissed after they allegedly beat a 28-year-old street peddler, causing brain and right hemiplegia.
The five chengguan, as they are commonly known, are in detention and will probably stand trial, Shanghai's Minhang district government said in a statement yesterday.
It did not disclose the names of the five suspects.
On July 11, watermelon peddler Peng Lin from Anhui province clashed with the chengguan who were clearing out unlicensed street peddlers at Huacao town, Minhang district.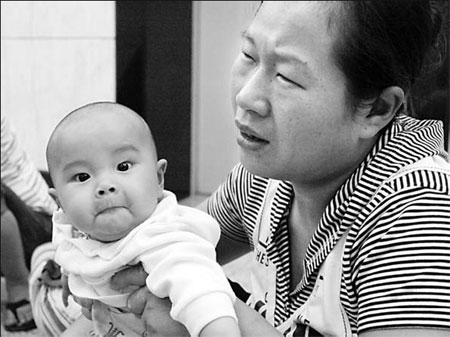 Peng Lin's wife sheds tears on Monday while talking about her husband's experience on July 11 in Minhang district, Shanghai. [China Daily/Xue Xiaoxiang]

As they tried to confiscate his stall, Peng bit one officer's leg and another officer's finger. He was then taken to a vehicle where the five chengguan beat him before sending him to the police station, according to the statement.
Peng, lightheaded and unable to speak at the station, was sent to the hospital.
Related readings:


 Street peddlers to be allowed in Nanjing


 Hackers 'spice up' chengguan site


 Police support for Yantai chengguan


 Chengguan in hot soup


 Chagrin over chengguan
Doctors said Peng suffered a brain injury and right hemiplegia. He is still being treated in the intensive care unit at Shanghai Huashan Hospital, where he is in stable condition.
The district government also said yesterday it will strengthen management of chengguan departments, trim urban management administrative teams and discharge low quality staff members.
The incident echoes other violent clashes across the country between chengguan and street vendors.
Local residents said similar confrontations are frequently seen on the streets, and sometimes turn violent.
"I don't think the peddler did anything wrong. They didn't do anything to threaten public security. Why is the government cracking down on them all the time?" said a woman who lives in Xinzhuang town, Minhang district. "They are just making a living. Most importantly, they actually benefit most of us because we can buy their products at a much lower price."