A court in southwest China on Thursday handed down the death penalty to an unlicensed drunk driver who crashed into four sedans, killing four people, in Chengdu late last year, local media reported Friday.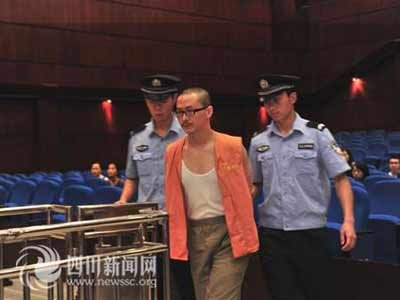 Sun Weiming is escorted by police in the court. [newssc.org]
Related readings:


 Traffic cops shocked as woman driver strips naked


 Calm bus driver takes crook straight to police


 Driver drinks 3 bottles of water to conceal alcohol


 Drunken Benz driver injures 10 in south China


 Drunk driver falls asleep after hitting two people
Sun Weiming, a company executive in Chengdu, capital of Sichuan Province, drove his Buick car into four sedans traveling in the opposite direction on December 14. Four people were killed and one was seriously injured in the crash.
Investigations revealed Sun has been driving his car without a license since May 2008.
Doctors found 135.8 milligrams of alcohol in Sun's blood. The government considers anyone with 80 milligrams of alcohol per 100 milligrams of blood drunk.
Police said Sun's car was traveling at a speed 120 percent higher than the limit on that road.
Sun first scraped a car and, in a bid to escape, drove his vehicle on to the other side of the road and crashed into four oncoming vehicles.
The Chengdu Intermediate People's Court sentenced Chen to death "for an offense against public safety", newssc.net, the official news website of Sichuan Province, reported.
Sun said he would appeal against the verdict.