Every weekday 25-year-old Chen Tangtang kisses her one-year-old sleeping toddler goodbye before rushing off to work taking a 30-minute bus ride. She rushes home straight after work to spend the little time she has with her daughter. At night, after the baby is put to bed, Chen logs on to Tencent QQ - instant messaging computer program - to catch up with her friends and to write blogs about her offspring updating photoshopped pictures.
She calls herself a "new generation mum".
Chen is a child of China's post 1980 generation - children born after the introduction of the one-child policy - who is often referred to by the locals as the "ba ling hou", or the "me generation".
Unlike those born before the 1970s, most of the post 1980 generation do not have siblings and thus grow up being the centre of attention of not just their mothers and fathers, but also grandparents on both sides. This generation is often stereotyped as spoiled, materialistic and selfish.
One thing is for sure: the "ba ling hou" generation views parenthood very differently to their parents amid the age of information. They are determined to let their children have more freedom than what their parents gave them.
Chen, who grew up with the pressure of "being better and smarter than her peers" said she wanted her daughter to have a happy and carefree childhood.
"I just want her to learn what she is supposed to in line with her intelligence. I won't push her too hard with advanced education," she said.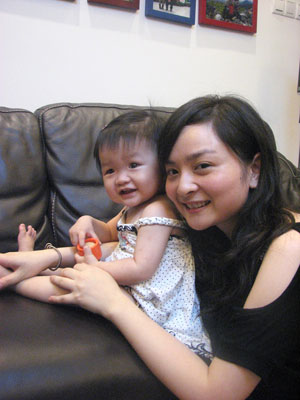 Chen Tangtang and her one-year-old baby girl. [Courtesy of Chen Tangtang]
Sun Ruixue, child psychologist, explained that the post 1980s generation was brought up by strict, authoritarian parents who expected their children to grow into a soul they "design".
"This generation [post-1980s] is ambitious and independent and since most of them have a higher educational background, they will allow their children to have more freedom," says Sun.
Chen, who got married two years after graduating from Beijing Normal University, said she and her husband made a conscious decision to have children early in their marriage.
The young mother would love to spend more time with her daughter, but due to career constraints, this is not an option for the young family.
"I don't have much free time to spend with my child, I don't even have time to make her lunch," said Chen, who, together with her husband, works full time as a bank clerk.
"Although we planned to have a child we still experience financial problems: On average I spend about 1,000 yuan on milk powder and 500 yuan on napkins and other baby products every month," she said, adding the expense would be higher as the child grows up.
Related readings:


 Post-80s: The vexed generation?


 Young couples splitting from tradition


 Memory of a post-80s generation girl


 'Me generation' juggles career aspirations and family pressures

But the "me generation" mother said she did not regret having a child early despite financial difficulties, as it has made her less selfish and more responsible.
"Before having a baby I could go to a hairdresser whenever I wanted curling my hair one month and straightening it back the next. But now being a mum I have to think twice before spending money on myself."
A survey conducted by the China Youth Daily shows 58.3 percent of its respondents - 96.6 percent of whom were born after 1980 - believe they would become responsible parents.
One of the respondents said she used to go out with her friends during weekends before motherhood but now being a mom, she naturally had learned to concern more for the family.