China State Construction Engineering Corp got final approval for what may be the nation's biggest initial public offering in two years, and said it will use the money to fund 40.5 billion yuan ($5.9 billion) of projects.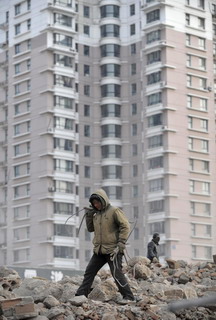 Workers collect scrap metal near a newly-finished residential building in Shenyang, Liaoning province in this February 23, 2009 file photo. China's booming housing market could prompt the biggest IPO in this year. [Agencies]

China's largest housing contractor will start the sale of as many as 12 billion shares, or as much as 40 percent of its capital after the offering, on July 22, Beijing-based State Construction said in a statement to the Shanghai stock exchange. The company gained approval for the sale from the China Securities Regulatory Commission, according to the release.
The IPO will be largest in China since PetroChina Co. sold 66.8 billion yuan of stock in October 2007, testing the local market's ability to absorb new equity. PetroChina's sale coincided with the start of a stock market rout that prompted China's securities regulator to stop approving IPOs last September.
"Given the current liquidity condition, the market can absorb the sale, said Wu Kan, Shanghai-based fund manager at Dazhong Insurance Co., which oversees about $285 million. "But the biggest worry for investors is that it's the start of the resumption of big IPOs."
China began allowing public stock sales again last month, and five companies have since gotten final approval for IPOs. Guilin Sanjin Pharmaceutical Co. and Zhejiang Wanma Cable Co., the first companies to go public in China since the ban was lifted, surged on their July 10 debuts, triggering stock suspensions under a new system aimed at curbing speculation.
The CSRC allowed smaller companies like Sanjin Pharmaceutical to go public first to avoid disrupting the stock market rally. Sanjin Pharmaceutical raised 910.8 million yuan.
Related readings:


 IPO rules buoy State companies


 Beijing plans rail IPO in Hong Kong to raise $5b


 IPO activity to pick up in second half of the year


 Sichuan Expressway IPO coming


 China OKs first major IPO in 10 months - source
The Shanghai Composite Index has soared 70 percent this year, making it the world's second-best performing stock benchmark. Sanjin Pharmaceutical and Wanma Cable received orders for hundreds of times the amount of stock they were selling as investors piled into new equities.
State Construction said the money raised will be spent from 2009 to 2012 on projects including residential and rail, according to the release. The company first got approval from the CSRC's listing committee for its IPO in May 2008. When the moratorium on stock sales was lifted last month, it was among 32 companies awaiting a final go-ahead.