GUANGZHOU: The local environmental protection authority has pledged to ensure better air quality during the 16th Asian Games next year by spending up to 600 million yuan to tackle the problem of air pollution, Yang Liu, deputy director of Guangzhou environmental protection bureau, told China Daily.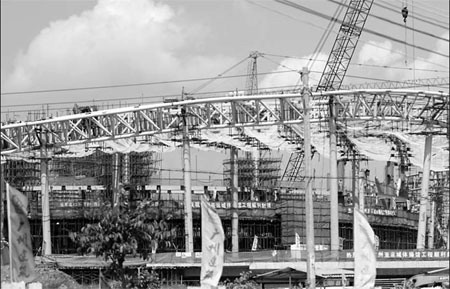 Cleaner air and blue sky days now serve as the backdrop of the venue of the 16th Asia Games in Guangzhou. [China Daily]
The plan also calls for another 1.8 billion yuan to be raised from the private sector.
"We have set a goal to ensure as many as 361 days of better air quality next year," Yang said.
Yang said days of better air quality in the city improved a bit in the first five months of this year, with 37 fewer days of haze and dust than in the same period of 2008.
Dusty, hazy days dropped from 142 in 2004 to 110 last year due to tightened environmental measures, the authority said.
"But the task of ensuring better air quality during the Games next year remains tough," he said.
To fight the problem, as many as 32 chemical plants will be removed or ordered to stop production by the end of this year.
"Industrial discharges like carbon and sulfur dioxide are major contributors to air pollution," the environmental specialist said.
All heating plants in the city have been told to strictly carry out efforts to reduce nitrous and sulfur oxides, Yang said.
Related readings:


 Guangzhou Games notches record sponsorship


 Asian Games to feature only 35 sports from 2014


 Sports Special: Celebrities promote image of 2010 Asian Games


 Asian Games wins race for sponsors
Sulfur dioxide emissions have been reduced from 185,000 tons in 2004 to 99,900 tons in 2008, sources with the local environmental protection bureau said.
Eight large factories in Guangzhou, including the Guangzhou branch of Sinopec and the Guangzhou Paper Group, were ordered last year to finish installation sulfur scrubbers by 2010.
As well, 91 cement plants with lower production capacity have been closed in the city in the last three years.
"We will also strengthen efforts to cut cooking smoke discharged by restaurants as it also plays an important role in polluting urban air," Yang said.
Last year, the local industrial and commercial bureau shut down 2,430 restaurants that failed to meet cooking discharge standards.
In meeting with Guangzhou Mayor Zhang Guangning, Zheng Guoguang, director of the China Meteorological Administration, said the authority will require moves to improve Guangzhou's air quality during the Games.
"We will introduce some measures that were used during the Beijing Olympic Games," Zheng said.
Zheng added that the meteorological authority would hold an experimental drill in November to see how much air quality can be improved.
The Asian Games scheduled for Nov 12 to 27 next year will come a time of year that is "relatively bad" for air quality in Guangzhou, said Cheng Guanrong, deputy director of the Guangdong provincial environmental protection authority.
"But we will do our best to improve the air quality. Special measures will only be introduced during the Games if the air proves bad ahead of their opening," Chen said.
Under a comprehensive scheme to improve air quality in Guangzhou between 2008 and 2010, emissions of carbon dioxide and sulfur dioxide are mandated to meet the national level II standard during the Games.
Chen added the provincial authority has begun a province-wide scheme to battle air pollution, aiming to build a comprehensive protective system in the Pear River Delta region.
Sources in the local government said the provincial capital Guangzhou has teamed with neighboring cities Foshan, Dongguan, Zhongshan and Shenzhen to establish a coordinated system to improve air quality.
Foshan, Dongguan and Shanwei will co-host the 16th Asian Games.
A recent study by Peking University and the Guangzhou Environmental Protection Bureau showed that 20 to 40 percent of air pollutants in Guangzhou are from some neighboring cities.