URUMQI: The city of Urumqi adopted a "comprehensive traffic control" Tuesday night to avoid further chaos amid the ongoing unrest.
The traffic curfew begins from 9:00 p.m. Tuesday and will last until 8:00 a.m. Wednesday, said Wang Lequan, secretary of the Xinjiang Uygur Autonomous Region Committee of the Communist Party of China (CPC), in a televised speech Tuesday.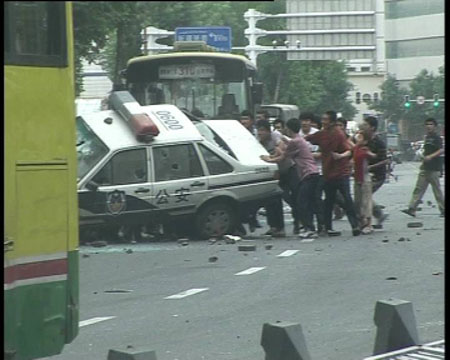 Photo released by police shows rioters smash and overturn a police car in Urumqi, capital of northwest China's Xinjiang Uygur Autonomous Region on July 5, 2009. [chinadaily.com.cn] 
"It may bring some inconvenience to you. But we expect your understanding."
Related readings:


 Xinjiang Party chief: Avoid ethnic confrontation


 Xinjiang to adopt curfew in capital city tonight


 Mobs in Xinjiang riot face severe punishment


 Xinjiang capital returning calm after ravaged by riot


 Ravaged by riot, Xinjiang's capital in horror
In his speech, Wang called for avoiding confrontation between ethnic groups in the region.
"The family members of those who were involved in the violence are innocent. We should be cool-headed and do not be fooled by the enemies," he said.
"Our targets should be the hostile forces, both at home and abroad, and criminals, rather than our own brothers and sisters of different ethnic backgrounds.
"Unreasonable behavior will only further worsen the situation," Wang said.
"All the employers in the city should call on their employees to go back home. Ethnic confrontation should be definitely prohibited," he noted.
Wang said an overwhelming majority of the suspects involved in the deadly violence are now under investigation.
"Some of those involved are students. Most of the youngsters were unaware of the truth. If they did not play a major role in the violence, they will be released. Their future should not be ruined."
"All the injured have received the best medical treatment," said Wang.
The government would comfort and compensate bereaved families, and try hard to help restore business for those who suffered losses in the violence, he said.
The death toll from Sunday's riot in Urumqi has risen to 156, with 1,080 injured.