Living a world away from the parades and fireworks of his homeland, American Jim Spear didn't forget his country's birthday. At his Roadhouse restaurant nestled under the Great Wall, Spear hosted Americans to celebrate their Independence Day with live music, dancing and authentic hot dogs.
Spear owns three restaurants and several hotels at the Mutianyu section of the Great Wall, most of which have been refurbished from traditional Chinese homes.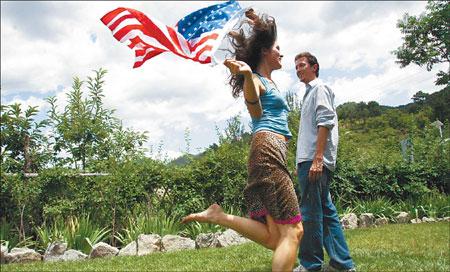 Emily Spear (left) and Dan Pappalau at Jim Spear's restaurant for their Independence Day party. [Photo by Jiang Dong]
He's lived there for three years with his Chinese wife and has been helping the local community grow by hiring local workers and farming all of his restaurants' vegetables there.
After coming to work for Beijing United Hospital 24 years ago, Spear decided to live here permanently, and is glad to work closely with the local Chinese but also represent his country.
"We're proud to be American and we're also proud to be living in China and to be welcome here," he says.
About 50 people attended the celebrations at the restaurant that opened last spring, and Spear hopes to host more people next July.
"You don't have to be American to celebrate Independence Day with us," he says.
"We like the idea of having a good, old-fashioned Fourth of July picnic out in the countryside with fresh air, barbecue, hunks of watermelon, and down-home music rather than something stuffy in town. We enjoy ourselves and welcome everyone to come and share a good summer afternoon and evening with us."
Zach Smith, an English teacher at Chengde Medical University heads back home by the end of the month for graduate school. But before he left, Smith came to Beijing to celebrate the Fourth of July with American and Chinese friends, drinking late into the night.
Smith is one of a growing number of US citizens flying to China to fill innumerable English teaching jobs or to study Mandarin.
He says he was drawn to China because of his love of travel and history.
Needing money to travel, he found a teaching position through a program at Drake University, where he studied.
The program places about 25 graduates each year at eight schools throughout China
Related readings:


 Biggest fireworks show in US celebrates Independence Day


 The Obamas at the Independence Day celebration


 Chinese dances to join US Independence Day parade
"They basically asked me where I wanted to go and who I wanted to teach," he says.
Smith teaches more than 1,700 students in lecture, besides many others in individual tutoring.
"The Chinese are helping me as much, if not more, than I'm helping them," he says. "They're awesome. I like being around them more than foreigners, to be honest."
Many Americans celebrated the day by jumping on group buses to the Great Wall at Shanhaiguan for an all-night beach party that attracted more than 1,500 people. Matthew Winters from Texas, who's studying and teaching English at a private school in Beijing, says what he missed most from previous US Fourth of July celebrations was the fireworks. But this year he attended the bash on the beach, filled with patriotic spirit, with friends from Canada and France.
In Nanjing, Pierre Howard, originally from Honolulu, Hawaii, teaches English at a kindergarten. He's been here for many years and considers himself a permanent resident of China. While he said Nanjing is a "world city", and many Americans were out partying, most of it could be attributed to the fact that it was a weekend and a day off for many Chinese people. He wished he was back in the US for the larger celebrations.
Ariel Lown Lewiton, an American from Chicago, came here to work for 21st Century in Beijing after the McGraw Hill publishing company eliminated her job.
Lewiton's boyfriend is doing a summer study of Chinese at Tsinghua University to help earn his master's degree in history, for which he is studying the history of the Qing Dynasty (1644-1911). When Lewiton found the job, which had just opened, she immediately accepted a one-year contract. Though she speaks no Chinese, she came two weeks before her boyfriend to begin work.
Lewiton says she never was a "huge Fourth of July person" back home, though she and friends joined the partying to show their patriotism during her first Fourth of July in China. She has enjoyed living here despite being "illiterate, deaf and dumb" and believes she'll stay after her contract has ended to travel with her boyfriend.