More than 11,000 calls to report or inquire about job-related crimes and alleged corruption among government officials have flooded China's new anti-corruption hotline only a week after the nationwide phone number was launched.
Approximately 6,000 more whistleblowers also poured in to report or look into cases of alleged abuse at 12309.gov.cn, the website that supports the confidential 24-hour unitary hotline 12309. Both were rolled out simultaneously by the Supreme People's Procuratorate (SPP) on June 22, the Xinhua New Agency reported yesterday.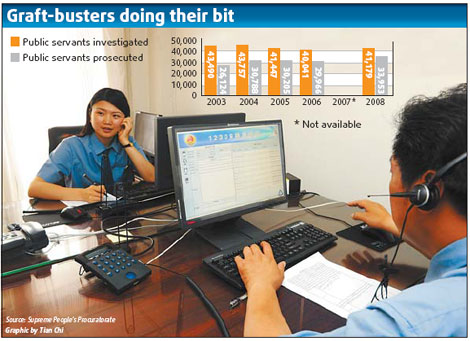 Operators answer phone calls made to 12309, a national anti-corruption hotline launched last Monday. Xiao Ge

Insiders familiar with government corruption said the introduction of both the website and hotline marks a new stance by the State government in welcoming the public to play a part in ferreting out government corruption and to promote the development of a watchdog public.
According to the reporting center of the SPP, the hotline and website accept cases in which government officials have committed job-related crimes such as corruption, bribery, dereliction of duties, unlawful searches, illegal detention and unlawful coercion of confessions.
"Statistics shows 80 percent of all cases investigated by procuratorates in China have been tipped through clues," said He Yan'an, a spokesman for the SPP .
An annual report released by the SPP in March 2009 said 41,179 government workers were investigated in 33,546 cases in 2008, and 33,953 civil servants were prosecuted.
Rather than writing in or visiting procuratorates in person, people can now tip off alleged crimes by government officials by talking to hotline operators, leaving voice messages or faxing the hotline.
Related readings:


 China launches corruption-busting hotline


 China opens anti-corruption hot line


 Shenzhen mayor sacked over corruption allegations


 Netizens hail audit report on corruption


 Official gets life sentence over corruption
According to Oriental Morning Post, the national hotline received 2,518 calls till 5 pm the next day after it launched. Operators answered 311 calls, while 457 whistleblowers left voicemails and 931 phone calls sought help in what to do about alleged government corruption. The remaining 101 calls checked the status of ongoing investigations.
However, Fang Yao, a lawyer familiar with the procuratorate system said the new whistleblower channels "may also lead to information explosion for procuratorates, whose handling capacities and communication facilities may be challenged."
Upon the first day of operation, the website indeed froze and only one in five calls from China Daily to the reporting system's Beijing procuratorates were successfully connected to the manned service.
Only 10 operators are handling reports from the Web and phone calls at the SPP reporting center, according to a spokesman of the SPP. The number of staff members working in provincial levels were not available.
Xinhua News Agency reported operation capacity of the website currently can only accommodate 1,000 visits simultaneously, but it will soon have its bandwidth doubled and software updated to avoid any disconnection.
A China Daily's investigation yesterday afternoon found that nine of 31 provinces, autonomous regions or municipalities on the Chinese mainland had yet to be included into the national unitary hotline scheme. Remaining procuratorates in those provinces are expected to join in by the end of this year, according to the SPP.