Reinforcement has begun at the Peking Man site to prevent one of its walls from collapsing.
The protective excavation, which started Wednesday, focuses on the west section of the cave where the first Peking Man skull, hundreds of thousands of years old, was found in Zhoukoudian, 46 kms from downtown Beijing.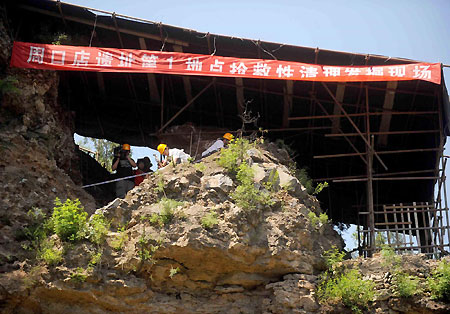 Archaeologists work for protective excavation at the Peking Man site in Zhoukoudian, in suburban Beijing on June 24, 2009. [Xinhua]
The west section is the only part that has remained untouched since the cave's discovery.
"Repair work cannot be done without a comprehensive excavation," Gao Xing, deputy director and research fellow of the Institute of Vertebrate Paleontology and Palaeoanthropology of the Chinese Academy of Sciences, said at a press conference Wednesday.
Related readings:


 Peking Man cave may crumble


 China starts rescue excavation of 'Peking Man' site


 New dig to start at Peking Man site


 China to excavate Peking Man site again


 Photos of Peking Man on display
However, the wall is slanting towards the ground and risks collapse. Closer observation over the past month has revealed loose rocks and a crack along its top, which makes it more vulnerable to erosion caused by rain.
Work over the next month will concentrate on areas around the crack and then expand to the whole section between August and October.
"Our ultimate aim is to save the section from further damage so that it might be available for research by future generations," said Gao.
The site used to be a 20-m wide, 140-m deep cave but the ceiling collapsed long ago.
Chinese archaeologist Pei Wenzhong found the first complete skull at the site in December 1929, together with a large number of stone tools and evidence of fire use by humans.
In 1936, three more skulls were unearthed, and fossils in the caves were found to belong to 40 individuals, with more than 100,000 stone tools.
Controversy remains on various issues, such as if Peking Man was able to control fire, if hunting was part of their lifestyle and the age of Peking Man.
Peking Man, the tool-making "erect man," was previously believed to have lived in Zhoukoudian Caves about 400,000 to 500,000 years ago. But in March Chinese scientists revealed that using a new radioactive dating method, Peking Man may have lived 200,000 years earlier.
More intensive research will be done to explain the development of relic deposits in the cave, he said.
"The deposits contained traces of humans, ancient animals and changes of natural environment. The excavation will help us understand in a more detailed way when humans settled down in the cave, when they began to use fire, and what and when major climate changes occurred."
Paleoanthropologists have carried out several small-scale excavations over the past 72 years, but never a project of this scale, Gao said.
The Zhoukoudian caves were listed by UNESCO as a World Heritage site in 1987.
Xinhua contributed to the story