HARBIN: The owner of an ordinary hen in China's Heilongjiang Province says the chicken laid a massive egg on June 10 that deserves a place in the Guinness World Records.
Related readings:


 Odd farm hen lays two eggs simultaneously


 Hen moves in with dog and her puppies


 Hen decides it would rather be a cock


 Celebrity hen show off its math skills


 Hard-working hen lays colossal Easter egg
The egg was 6.3 centimeters wide and 9.2 cm long, and weighed 201 grams, three times heavier than an ordinary egg. It's been kept in the refrigerator of the owner, Zhang Yinde, an employee of the Forestry Bureau of Suiling County, Suihua City of Heilongjiang.
Zhang told Xinhua Tuesday that the egg looks like any other, except that its shell is a bit rough. He plans to ask Guinness for recognition.
"The heroine hen is a super mother. She laid three other big eggs previously and once laid four eggs within one day," Zhang said.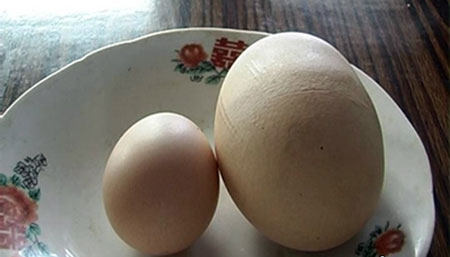 The huge egg (R) and an ordinary egg. [

northeast.com]
Zhang got the hen as a "bonus" when he bought 10 other chickens from a breeder. The other chickens have since ended up on Zhang's dinner table.
The hen has an unusual source of food. "She loves to walk around my dog's kennel. I guess she's been stealing the dog's food," Zhang said.
"I found that the previous Guinness record was a 176-gram egg. I think mine will break the record," Zhang said.