A day after announcing that he would compose the theme song for the Shanghai 2010 World Expo, legendary music producer Quincy Jones promised yesterday to save the crumbling global record industry - starting in China.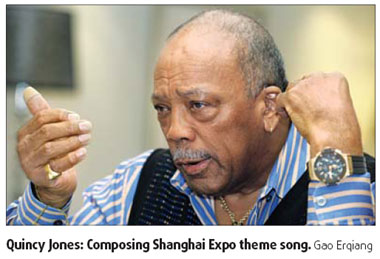 "We are going to reinvent the record business, in China, because it's dead," the 76-year-old producer of Michael Jackson's Thriller, which has sold over 100 million copies worldwide, told China Daily yesterday evening at his Shanghai hotel room.
"Not might, we are going to. I don't know how long it will take, but we've got to do it quicker than in the next decade. Yi bu, Yi bu (step by step). We need the music industry. It's already collapsed. The American music business went down $22 billion last year, 44 percent, man. The whole Middle East is a joke, the world is a joke.
"I haven't figured out all the details yet. I'm still fishing. But, hopefully, we're going to do it through cell phones, by putting it on every cell phone in China. And that's why I want for it to be closer to China Mobile, and the guys at Blackberry and so forth, and that's the answer (to piracy)."
Such comments would be dismissed as hyperbolic had they come from anyone else.
But Jones, who came here last week to accept a lifetime achievement award at the 12th Shanghai International Film Festival, tends to translate words into deeds.
His feats include producing the biggest-selling record of all time (Thriller), discovering Oprah Winfrey (as producer, he cast her in Steven Spielberg's The Color Purple), being nominated for the most Grammy Awards (79), and arranging the first song ever played on the moon (Frank Sinatra's Fly Me to the Moon, played by astronaut Buzz Aldrin in 1969) on a tape recorder.
Related readings:


 Language, culture and music continue shattering barriers


 Bank customer steals cell phone and forgets his cash


 To stop pandemic, Japan turns to cell phone


 Too much cell phone use may lead to cell phone elbow


 Microsoft to launch cell phone software store: paper
Next up is the Shanghai Expo theme tune.
He can add this to a growing list of credits in China, along with serving as producer of the 2007 Shanghai Special Olympics' theme, and as artistic adviser to the opening and closing ceremonies of last August's Beijing Games.
Seeing the Olympics as a bridge to greater cultural understanding, he elected to stay involved in the project while other US celebrities such as Steven Spielberg bowed to pressure and withdrew.
During his nationally televised acceptance speech on Sunday night, Jones, who is studying how to write Chinese characters, said: "I am becoming more Chinese every day."
He said it will be "an incredible honor" to work with Chinese composer Tan Dun on the expo theme song, but added that nothing has been set in stone yet except that Chinese artists and musicians will be involved.
"I've been touring the repertories here for the last two years, and they are just incredible. I'll also go to see (Chinese pianist) Lang Lang in Boston next month. But you don't need a famous person to make a great song. A great song just stands on its own two feet. Even Sinatra and Streisand couldn't make a bad song stick," he said.
"Songs are like whispers from God," added Jones, who himself has more life stories to tell than the Bible. "They come from the unconscious. You just have to listen. I see songs in my mind like paintings. First they are sketches, then oil paintings, then lines appear and so on."
Having spent a good part of his life dedicated to humanitarian efforts, including a musical collaboration with Jackson and Lionel Richie on the record We are the World (1985) to fight famine in Ethiopia, Jones recently turned against a tide of public opinion to have him nominated as the United States' first-ever minister of culture.
"I changed my mind. I don't want to do that anymore. (US President Barack Obama) and I had lunch and we talked about it, but he didn't ask me. He may do, or he might never, but it doesn't work," he said.
"Instead, we have put our own consortium together, a consortium of the highest minds in hi-tech, with people like Shawn Fanning, who started Napster, and Alan Kay, one of the creators of the Internet.
"We want to get the education system to teach Americans their music. Music really can heal the world. Just look at Live Aid, with (U2 singer) Bono and (Bob) Geldof."
Given his experience and contacts, Jones can dream of going where few others have been before in terms of making the world a better place.
But what really gets him going these days is African music, and the links he keeps discovering between it and Chinese music, a fascination that may see elements from both ultimately creep into the Shanghai Expo tune.
"I just can't get over how similar they are. I keep finding more and more common strands," he said.