FUZHOU: Linfa, the third tropical storm for this year, landed in east China's Fujian Province Sunday evening, packing winds at 23 meters per second at its eye.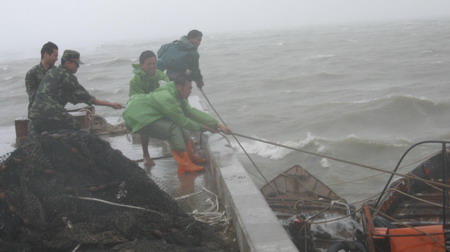 Soldiers help fasten fishing boats in Zhangzhou, east China's Fujian province, as the China's southeast coast braces for tropical storm Linfa on Sunday, June 21, 2009. [Xinhua]
The storm landed in Dongshi Township in Jinjiang City at 8:30 pm, said Xie Zhaonan, director of flood control headquarters of Quanzhou City, which administers Jinjiang.
The storm was formed in the South China Sea Thursday afternoon and had downgraded from a strong tropical storm by the time of landing, according to the provincial meteorological bureau.
It will bring heavy rains in coastal areas from Sunday night to Monday as it is moving northward, the bureau said.
The shipping route between Xiamen and Jinmen was closed temporarily from Saturday. The Provincial Oceanic and Fisheries Bureau had recalled 30,000 fishing boats and 162,757 people working on these boats by 6 pm Sunday.
The local government has sent more than 10 million text messages to mobile phone users, asking them to be alert of the storm.