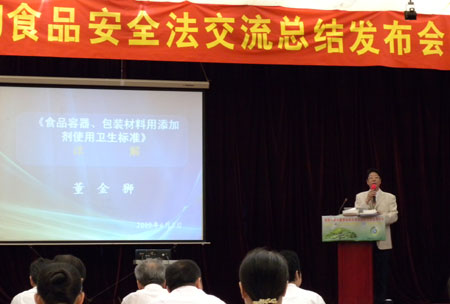 Dong Jinshi, deputy director and secretary-general of the International Food Packaging Association, speaks at a forum held by Global Village in Beijing to mark one-year implementation of Plastic Bag Ban on June 2, 2009. [chinadaily.com.cn]
The survey also looked at how the ban affected consumer behavior.
Dong Jinshi, secretary-general of the International Food Packaging Association, said restrictions on bag usage have saved the equivalent of 1.2 million tons of oil.
Related readings:


 Plastic bag ban works in cities, not rural areas

 China finds plastic bag habit hard to break


 Still more to do after a year's plastic bag ban


 One year after plastic bag ban, how is China doing?

 Public awareness improves a year after plastic bag ban
"The number of plastic bags used in supermarkets has reduced by 40 billion, down about 66 percent nationwide, since the plastic bags ban took effect last June," said Dong at the survey forum last week.
The plastic bag ban is a part in China's bid for ecological improvement and environmental protection, which also includes saving energy and lowering carbon emissions.
Yesterday, at the Global Green Business Summit in Tianjin Zhang Lijun, deputy director of State Environmental Protection Administration, said the Chinese government will inject about 5.25 percent of its four-trillion economic stimulus package into the program
"The government will allocate 210 billion yuan (US$31 billion) to build the country to the path of a green economy," he said.