SHANGHAI: A nude bathing house in Sichuan province that was shut down seven years ago after a social outcry has reopened its nonexistent doors, ignoring charges of "disrespecting social ethics and morality".
Developers of the bathing house, situated in the Yuping Mountain Scenic Spot, said they only "wished to allow tourists the pleasure of intimate contact with nature", and had no intentions of challenging public opinion of nude bathing.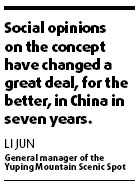 The bathhouse reopened on Saturday.
Even though a few netizens came out in support of the idea, saying it was a matter of people's personal choice, many lashed out at the opening, referring to the concept as a "visual pollution" and a "disgrace to social ethics".
Li Jun, the general manager of the Yuping Mountain Scenic Spot, said it was the "same deluge of public criticism" seven years ago that brought the shutters down on the bathhouse the first time.
The nude bathhouse was first established in 2002, but local authorities soon shut it down alleging "disrespect for spiritual civilization", Li said.
The massive public outcry cost Shen Shuzhe, Li's predecessor, her job.
But that hasn't deterred Li a bit in his endeavor to prove China was ready for a naked bath, which he referred to as "a form of art".
"Social opinions on the concept have changed a great deal, for the better, in China in seven years," said Li.
"I don't think people will be opposed to the idea."
Related readings:


 Berlusconi says nude pics 'innocent'


 Nude TV shoot sparks uproar in Malaysia


 Man held over revenge nude photos online


 Models pose for 'nude photography week'


 Swiss canton bans nude hiking
Li said the bathhouse, tucked in a valley of the Yuping Mountain, had separate divisions for men and women, well guarded with security personnel to ensure the safety of the visitors.
Currently, China doesn't have any regulations or laws forbidding people from taking a bath in the nude, but the concept remains a taboo in mainstream Chinese culture, said Fang Gang, associate professor at the psychology department of the Beijing Forestry University.
He said even though many such bathhouses had emerged in cities such as Cizi in Zhejiang province and Chongqing municipality, visitors remain rare for fear of social criticism.
Fang, an adamant supporter of nude bathing, called for more tolerance from the Chinese public.
"Nude bathing is a way of life and merits respect as a sub-culture in our society," he said.