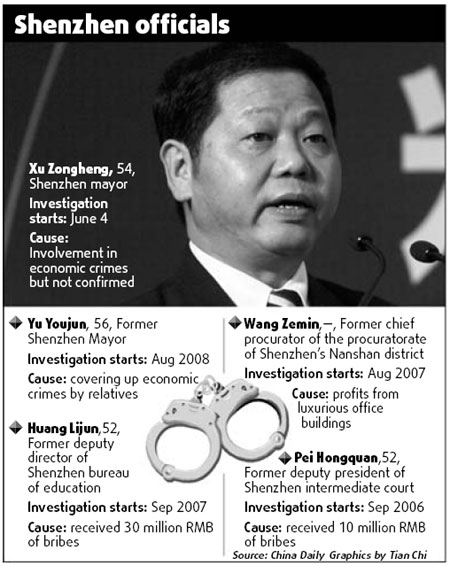 The splatter from the fall of Shenzen's mayor could drench other officials near him.
The city pivotal to reforms in the country is undergoing a political shakeup as Mayor Xu Zongzheng, 54, has been detained while undergoing a graft probe by the anti-corruption watchdog.
The central government's disciplinary commission yesterday did not elaborate on what led to Xu's investigation, but media in neighboring Hong Kong pointed out two potential causes - links to possible financial crimes of Huang Guangyu, once China's richest man, and Xu's growing unpopularity among political rivals. It's unknown who will take over his position during the investigation.
The reshuffling of the political landscape is expected to cast a shadow over the city's upcoming major political and economic reforms, analysts said.
Xu's wife was also taken away by investigators, the online version of the Caijing Magazine reported, while more officials in Shenzhen, including vice mayor Yan Xiaopei, may be under investigation, according to Hong Kong-based financial news portal Caihuanet.
In what may be an unrelated matter, Chen Shaoji, 64, chairman of the Guangdong committee for the Chinese People's Political Consultative Conference, and Wang Huayuan, 61, secretary of the Zhejiang commission for discipline inspection, were under investigation in April for links with Huang Guangyu.
Hong Kong-based newspapers, including Ming Pao, reported that Xu stopped showing up for public appearances Friday morning after he was put under shuanggui - a form of detention imposed on party officials - for suspicious links with Huang, the founder of GOME, a nationwide home alliance giant.
Related readings:


 Shenzhen mayor investigated over serious discipline offences

 3 Sichuan village officials jailed for graft


 Exposing graft could get you rich

 Crackdown on graft gets tough in Guagnzhou
Ming Pao also quoted local sources saying Xu's fall may have been caused by an intense rivalry with Shenzhen party secretary Liu Yupu, a former official from the Guangdong provincial government who took over the office in January last year.
Speculating on the fallout, local officials and real estate developers, rumored by locals in Shenzhen to be part of an alleged scheme to collect money from construction projects, remained silent yesterday.
"Now with their backbone gone, all of them fear getting caught up in the corruption probe," said a senior employer in a Shenzhen-based construction corporation, who did not want to be named.
A car technician in his early years, Xu has been a hardliner since he was sent to Shenzhen by the central government from Hunan province in 1993. He became the first Shenzhen mayor to be locally promoted to the job in 2005.
His blunt refusal to put a ceiling on the local housing market caused nationwide controversy over whether he was representing the interests of major real estate developers instead of the public, who found housing prices unaffordable.
Under his administration, Shenzhen announced a major revamp to cut fat in government, as well as plans to cooperate with the well-off Pearl Delta region and Hong Kong. Local analysts said the reforms will almost certainly be affected with the vacuum in local leadership.
"The reforms were tailored by officials, including Xu. Now with no successors in sight, there will be a pause before we see movement on them," said Guo Wanda, vice-president of the Shenzhen-based China Development Institute, a government think tank.
Le Zheng, chairman of Shenzhen Academy of Social Sciences, said there has been no news on Xu's successor.
Xu's last public appearance was on June 4, when he met with the heads of Cisco China and China State Construction and Engineering Corporation, before holding an administrative meeting. He was expected to receive the official flag from the mayor of Belgrade next month at the closing ceremony of the 2009 Universiade, as Shenzhen will hold the next event in 2011.