A tomb built by four businessmen is creating a stir in Wenzhou, Zhejiang Province, East China, a local news website 66wz.com reported Thursday.
The tomb, a three floor building that resembles a luxury villa, was built by four Xu brothers at a cost of up to 1 million yuan ($150,000), according to a middle-aged woman who claimed to be their maid.
Local residents said one of the four is in charge of a factory in the village while the other three and their mother run a business in Italy. Their father, 84, lives in the village with his son.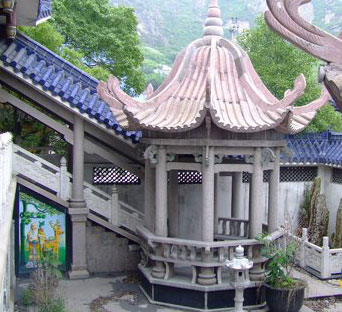 A 
pavilion
 is seen on the ground floor of the tomb, which is a three floor building built by four brothers in a village of Wenzhou, Zhejiang Province, East China. [66wz.com]
The cost and extravagance of the tomb is causing quite a stir among locals with some guessing it actually costs about 800,000 yuan.
Certain residents thought it was a private matter while others didn't like it.
One note posted on 66wz.com said the luxury tomb, which is 8-meter high and 20-meter long, cost too much and occupied lots of lands, and said this kind of luxury should be put to an end.
Other netizens said it is not surprising at all because there were already two luxury tombs built elsewhere a decade ago.