BEIJING - China built the finest optical telescope to scan 10 million celestial spectra in the coming five-to-six years, one of the world's most ambitious astronomical endeavors to record key data portraying how the universe was formed.
The Chinese government, which awarded a 235 million-yuan ($34 million) contract to a consortium of elite astronomers and engineers, officially unveiled on Thursday the Large Sky Area Multi-Object Fiber Spectroscopic Telescope (LAMOST), the biggest telescope of its kind in the world.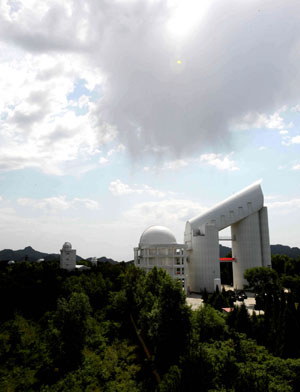 This undated file photo shows the exterior of the Large Sky Area Multi-Object Fiber Spectroscopy Telescope (LAMOST) in Xinglong, Hebei Province, north China. [Xinhua]  
The research team, led by Cui Xiangqun, a world-renowned active optics expert who heads the Nanjing Institute of Astronomical Optics and Technology under the Chinese Academy of Sciences (CAS), made a breakthrough in synchronized movements of 24 hexagonal mirrors of a Schmidt reflecting corrector, which is used to track celestial bodies for scientific analyses.
Cui and her team even made each mirror piece, 1.1 meters in diametrical length, capable of deformation for more precise targeting and error correction in observations. Light from celestial bodies are reflected to a bigger spherical mirror, made up of 37 same-sized hexagonal mirrors in a similar way.
Related readings:


 1st deep sea observatory looks at climate change


 China to build world's largest radio telescope


 Hubble telescope gets new life


 China sets up space observatory on South Pole's Dome Argus


 1st deep sea observatory looks at climate change
With the 3.6-meter-aperture reflector and the 4.9-meter-aperture spherical mirror, together with a focal plane mounted with 4,000 optical fibers - all cutting-edge technologies - scientists could ascertain spectra of 2.5 million fixed stars, 2.5 million galaxies, 1.5 million brighter cluster galaxies and one million quasi-stellar objects, mostly in the north celestial sphere.
All the 10 million spectra are expected to be completed within five-to-six years, Cui said, adding that the data would be subsequently accessible to global scientists.
Spectra are key for astronomers to read celestial bodies' chemical composition, density, atmosphere and magnetism. So far, the science community have found the existence of billions of celestial bodies, but have only managed to collect spectra of about one in every 10,000 of them.
The ambitious goal of collecting so much data encouraged Cui and her team to overcome the obstacles making a super large telescope that has both a big aperture and wide field of view.