Pop singer Man Wenjun was released Wednesday afternoon after spending 14 days at a detention center for drug use.
The 40-year-old was collected by staff from Taihe Rye Music, the company he is currently contracted to, in the early afternoon, leading portal Sohu.com quoted Song Ke, Taihe Rye's CEO, as saying.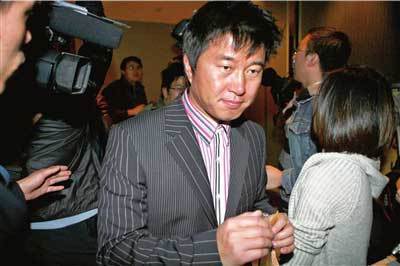 Undated file photo of Man Wenjun. [CFP]
Man is "with his family", Song said.
Related readings:


 Pop singer, wife busted for drugs


 Pop singer, wife detained for using drugs


 Famous Chinese singer detained over drug use


 Lost slumdog millionaire
The singer's wife Li Li is still being held in the capital's Changying detention center for supplying drugs. The couple was taken from a nightclub by police along with at least 10 others on May 19. The group was believed to have been celebrating Li's birthday.
The nightclub, named Coco Banana, was told to close for six months.
Man had a public image as a responsible man with a love of charity work. He is expected to make a public apology, according to Liu Qun, a division chief with Taihe Rye.
The timing of the apology is not known because Man "needs some rest first and foremost", Song said.
Man, who shot to fame with the 1996 hit I Understand You All the Time, has been a brand ambassador for the China Foundation for Children with Brain Paralysis since 2007.
An unnamed drug dealer was cited by the China Entertainment Net as saying that the couple were frequent drug users and bought 2.5 grams of heroin from him on the morning of Li's birthday.
The incident has renewed a long-time debate about the moral standards of celebrities.
Shen Yongqiang, a psychology professor with the Shanghai Normal University, said Man's drug use was due to the fact that "he wasn't clear of his own role".
"If he had any idea that he's still a public figure, then he'd know what to do and what not to do as one," Shen said.