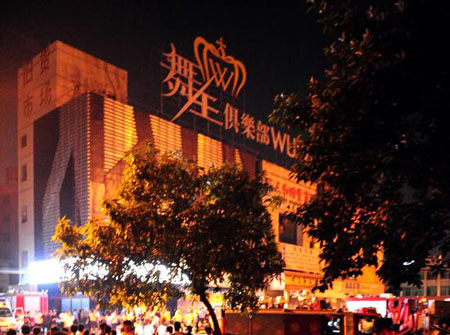 Undated file photo shows the Wuwang, or Dancing King, nightclub in Longgang district of Shenzhen city, South China's Guangdong province. Fireworks set off during a dance show at the club sparked a blaze that killed 44 people and injured at least 64 last September. [nddaily.com]
GUANGZHOU -- A total of 17 people have been accused of responsibility for the fatal nightclub blaze that claimed 44 lives in south China's Guangdong province on September 20 last year, the local procuratorate said on Wednesday.
Zhang Wei and Wang Jing, main shareholders of the unlicensed "King of the Dancers" club in Longgang District of Shenzhen City, were accused of being responsible for the accident and the illegal business operation, according to officers with the publicity department of the Guangdong Provincial Procuratorate.
Related readings:


 6 jailed up to 13 yrs over deadly nightclub fire


 Policeman jailed for nightclub fire disaster


 Seven officials charged in nightclub fire case


 Seven accused over fatal nightclub blaze in S China


 13 arrested over fire in Shenzhen nightclub
The other 15 people, mainly the club staff including the general manager Lu Jinghuang, a number of senior officers and accountants and a  firefighting facility contractor, were accused of sharing responsibility, illegal business operation, and covering up or destroying fiscal records of the club.
It is unknown when they will stand trial.
Seven people, including two former police officers and a head of the local firefighting squad, had been sentenced to up to 13 years in prison over taking bribes from the club owners or dereliction of duty.
The fire broke out on September 20 at the club when more than  300 people were watching a performance and fireworks ignited flammable material in the ceiling, which released toxic gas.
The club was unlicensed and had not passed a fire safety test before it opened.