China's automobile market has emerged from the shadow of the global financial crisis and the industry downturn, as the government's stimulus measures have borne fruit, said industry analysts.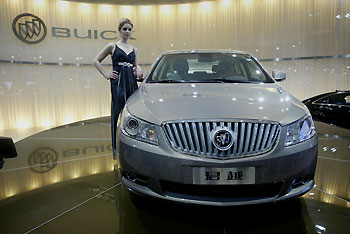 General motors' Buick LaCrosse displayed at the  Shanghai International Automobile Industry Exhibition in April. [China Daily]
"China's automobile industry has kept itself ahead of the others as reflected by the robust April sales numbers," said Hui Yumei, analyst with automobile market research company Sinotrust.
General Motors, the first firm in China to release its domestic April sales numbers, said yesterday that vehicle sales rose 50 percent on an annualized basis in April to 151,084 units, a new monthly high.
Its German rival Volkswagen may also have recorded impressive sales in April. The company's China president and CEO Winfried Vahland had predicted during the Shanghai automobile show last month that "our sales in April are likely to surpass March figures".
"It is a clear signal that the domestic automobile market is back on track and will keep growing this year," said Zhong Shi, an independent auto analyst.
Related readings:


 GM's China sales surge 50% to monthly record


 GM: Some parts of Chrysler deal could help GM


 GM expects China 2009 sales to grow 5-10%


 GM China to display 37 vehicles at Shanghai Auto show


 GM to double China sales over 5 years
"We can also see the industry revival from the enthusiasm of visitors and exhibitors at the Shanghai automobile show in April," Zhong said.
The China Association of Automobile Manufacturers is expected to release its official automobile sales figures this Friday or next Monday.
That figure will be matched with the 34.4 percent fall in the US market in the same period, its lowest year-on-year growth rate in 30 years, according to Xinhua.
China's automobile market has been increasing for four consecutive months since last December, after it encountered the first drop since 2006 in August 2008.
The country's sales growth in the first three months has surpassed US figures and made China the crown jewel in the global automobile market during the first quarter.
"The robust April sales has continued this month, and we also expect strong sales during the three-day May Day holidays," said Hui. "I expect China's automobile market to break the 10-million-unit barrier this year," he said.
Both Hui and Zhong agreed that the Chinese government's active and timely stimulus measures and industry revival plan have spurred demand.
SAIC-GM-Wuling Automobile Co, GM's mini-commercial vehicles joint venture, increased domestic sales in April by 60.6 percent from last year to 95,544 units, after the Chinese government kicked off the 5-billion-yuan subsidy program to spur auto sales in rural areas in March.
GM's another venture Shanghai GM, one of China's leading manufacturers of passenger cars, recorded a domestic sales increase in April of 34.7 percent year on year to 55,245 vehicles.