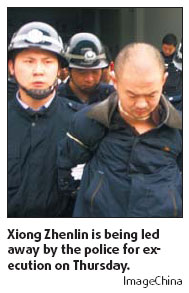 The man who killed eight people, including a two-year-old baby, in just 15 hours, was executed on Thursday, in Suizhou city in central China's Hubei province.
The death penalty, awarded by the Intermediate People's Court of Suizhou on February 9, was approved by the Supreme People's Court, local media reported.
Xiong Zhenlin, 35, a former boss of a junk collection station, killed his victims in the town of Luoyang, Suizhou on Jan 4 and was arrested a week later, after the Ministry of Public Security released an A-degree wanted notice and offered a reward of 50,000 yuan ($7,300) for his capture.
Prior to the execution, Xiong repented for his crimes, saying he was "not vicious by nature, and not a demon". He said he committed the murders as he "was anguished deeply in heart", the website of Wuhan Evening News reported Friday.
Related readings:


Suspected mass killer seized


Police offer reward in hunt for killer


Man appeals death sentence for killing eight people


Killer's world was crumbling - police
On hearing that he would be put on the firing line, Xiong told the bailiff that he preferred a lethal injection as "shooting will cause a lot of pain". Local media reported the killer quietly wept on the way to the execution.
Xiong, divorced last September, hoped to remarry but was refused by both his ex-wife and lover, the 43-year-old widow Zhu Deqing. He then killed Zhu and her two-year-old grandson at their home in Luoyang town, outside Suizhou.
Five of his employees, two of them with mental disabilities, and a local resident, with whom Xiong had disagrements, were killed before Zhu and her grandson, local police said earlier.
He appealed against the death sentence, claiming he had "drank himself into a stupor" before the killings and deserved leniency for his "good attitude" in confessing the crime.
Hubei Provincial Higher People's Court rejected his appeal on March 3, asking the Supreme People's Court to approve of the death penalty.
Local police said Xiong's being in financial dire straits and his psychological problems contributed to the killing spree.