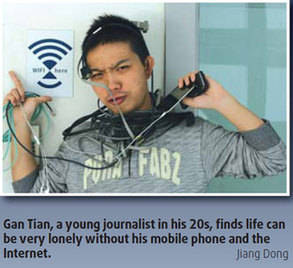 I am 24, have two mobile phones, spend five hours online everyday, have no landline at home and I'm a social butterfly. I am addicted to my toys of technology and I'm the perfect guy for this experiment.
On a Sunday evening, before starting my mission of three days without using modern communications, I publish a notice on my webpage at kaixin (a Chinese social site, similar to Facebook). I also have a landline installed at home and tell friends they can only contact me on my home and work numbers. I pack away my cell phones, and unplug the Internet. I prepare for bed and turn off the light. The Dark Ages begin.
Monday
9:48 am
Damn it! I have slept in. I always use my mobile alarm to wake up 8 am but my cells are locked in the closet, without batteries. Rush to work. So many things I should do today.
10:24 am
Ride the bus to my Beijing office. Bored. Normally call people to arrange interviews during this one-hour trip. Feel alone in the bus. Alone. Have nothing to do. Watch people. A couple fights over spending too much money. Old man struggles to board bus. Little girl gives up seat to pregnant lady: Real people. What a wonderful world.
11:45 am
Start my office computer and automatically reach out to click online. Damn it! Okay. Deal with it. It's nearly lunchtime and I have achieved nothing.
1:35 pm
Research a shopping article for China Daily's Beijing Weekend. Where do you find the coolest running shoes in town? A good friend is PR girl for a big sport shoes company and I have her number on my ... damn it! I forgot to transfer any number from my cell phones onto paper. I have more than 250 numbers. Senior colleagues on the newspaper did suggest I keep a contact book. "What's a contact book?" I ask.
They nod their heads in disbelief.
1.40 pm
I'm a genius because I call 114 (directory assistance) to get the company's front desk number. I wonder if other people have used directory assistance before.
"Hello," says the cold and detached voice of a middle-aged lady.
"Oh, Hi, hello. Can you put me through to Xiao Lunan. Thanks."
I've never spoken to a person at a reception desk. I only use cell numbers and speak directly to the people I want.
Receptionist says nothing and puts me through but Xiao is not at her desk. There is no message answering service. I hang up.
It is the first time I make a landline-to-landline call to a good friend and I fail to connect.
1.42 pm
"Hello," says the front-desk lady again.
"Hi. I just called to contact Xiao, but she is not at the desk. Can you give me her mobile number, please? This is Gan Tian from China Daily. We are friends, and I have something to confirm with her."
"We don't provide any personal mobile numbers here," the lady says without emotion.
"Please. This is urgent."
"If you are a friend of hers, why don't you have her mobile number?"
"I am on a special project and I'm banned from using my mobile phones. Her number is saved in my ..."
Click.
1:44 pm
Postpone my running-shoe story until Thursday when the mobile ban is lifted.
Next. Start a 500-word piece for China Daily's travel series My Hometown. Reporters write about their home provinces, and I'm keen to share my local knowledge about Hengyang, the second largest city of Hunan province.
5:54 pm
After 4 hours, I still cannot finish this simple task because without the Internet I cannot remember that my hometown has 7 million people, is 160 km south of the provincial capital of Changsha and was once called "Wild Goose City". Suddenly, I remember that I have some travel brochures at home that I can use.
7:14 pm
Ride bus home feeling tired and dizzy. Alone. Cannot call any friends to complain. Lonely, I'm so lonely.
8:24 pm
Home alone. Should be chatting happily on MSN with my friends. Instead, I am sitting in my bedroom, watching a boring DVD I bought on my way back home. No phone numbers to call. Lonely, I'm, so lonely.
10:24 pm
Go to bed because sleeping is better than doing nothing. Usually I crash out after midnight.