Beijing yesterday dismissed a Pentagon report on the country's military strength, saying it "grossly distorts facts" and "smacks of Cold War mentality".
The report continues to play up the fallacy of the China military threat and interferes in China's internal affairs, Foreign Ministry spokesman Qin Gang told a regular press conference, adding that "we have lodged a protest to the US".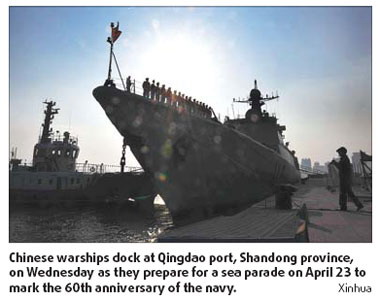 China unswervingly sticks to a path of peaceful development and pursues a policy which is purely defensive in nature, he said, noting that Beijing is committed to safeguarding world peace and stability.
"We urge the United States to respect this basic fact.
Related readings:

 Pentagon issues annual report on China's military power


 Gates: US-China military ties steadily improving


 Military budget increase normal, not aggressive


 Sino-US military dialogue resumes


 China says military ties 'remain difficult,' urges US actions


 Sino-US sea standoff appears to have ended
"We suggest the United States drop the Cold War thinking and prejudices, stop releasing such reports and stop groundless accusations to prevent further damage to the relationship between the two countries and two armies."
The Ministry of Defense yesterday also said it was annoyed with the US report.
There are still many hurdles to be removed in China-US military relations, which are experiencing a difficult period, spokesman Hu Changming said.
The Pentagon report only serves to add more obstacles to the resumption and development of military ties, he noted.
The report comes in the wake of heightened tensions between the two nations after Chinese vessels this month confronted a US Navy spy ship in China's exclusive economic zone in the South China Sea.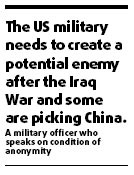 Bilateral military talks resumed only recently after a five-month suspension over US arms sales to Taiwan last year.
The Pentagon on Wednesday released the annual report, repeating its litany about "limited transparency" and questioning the "purposes and objectives" of the People's Liberation Army (PLA).
Song Xiaojun, a Beijing-based military expert, said the Pentagon routinely uses the "China military threat" to seek increases in the defense budget from Congress.
"The Pentagon has always put China's defense budget at twice the level of the Chinese government's figure. Its motives are not pure," he said.