QAMDO COUNTY, Tibet -- Sheltered in a valley, the county seat of Qamdo, in eastern Tibet, seems like many other Tibetan towns with monasteries perched on hilltops and sun-weathered residents.
Fifty years after the Democratic Reform in Tibet in 1959, its Tibetan inhabitants embrace development and co-exist with other nationalities, including Han Chinese.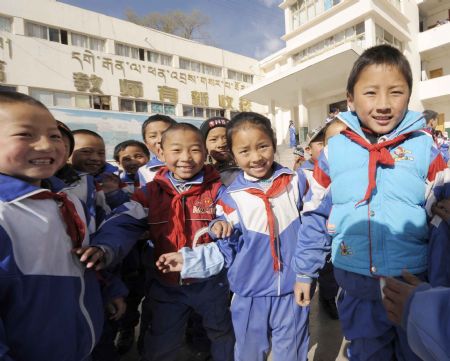 Children gather before the camera at an elementary school in Qamdo, southwest China's Tibet Autonomous Region, March 10, 2009. [Xinhua]
Dressed in a padded purple Tibetan gown, Tsering Drolma, 18, a student at the No.1 High School of Qamdo Prefecture, dreams of studying in Beijing.
Full Coverage:


Tibet In 50 Years
Related readings:


 Tibetan peasants resume spring ploughing


 Tibetan mastiff exhibition in Shandong


 Tibetan legislator calls for balanced view of Tibet


 Living Buddha: Tibetan culture well preserved
She will take the college entrance exam this summer. Her preferred university, the Beijing-based China University of Political Science and Law, is an elite school that enrolls only the very best students.
But Tsering is confident. She is a top student in her school and she can enter the college with lower exam scores than her Han Chinese peers thanks to the government's favorable education policy towards Tibetans.
Equal Opportunity
Students at her school can choose to study either Tibetan or Mandarin.
Tsering says only three of the 17 classes in her grade are taught in Mandarin only and the rest in both languages. Tibetans can choose their classes, and the teaching materials are all the same.
In job markets, local Tibetans also have choice.
Tashi Drolma,who works at the local government publicity department, says the local government employs equal numbers of Tibetans and Hans.
Government posts are considered the best and most stable jobs and are accessible to anyone who passes the examination.
"Some government agencies, such as the police offices and political consultative conferences tend to hire more Tibetan employees as such posts require effective communication in Tibetan," she says.
In the streets of Qamdo County, most signs are in Chinese and Tibetan. Locals can buy groceries and medicines in shops run by Han Chinese, who mostly hire local Tibetans to ensure effective communication.
Modernization On The Plateau
Qamdo Experimental Primary School, the first modern primary school in Tibet, was built by the Communist Party of China government in 1951. Here, Qiangba Puncog, chairman of Tibet Autonomous Region, once studied, and today 10-year-old Drolma Yangjen watches slides in the new multimedia room.
"In Tibetan language classes, the slides were all in Tibetan language," she says, adding the computer has made her classes fun.
The school also offers English classes.
Not every Tibetan child is as lucky as Drolma Yangjen. It is impossible to provide multimedia facilities to every school in a region where the economy is mainly based on farming and animal husbandry.
Tashi Drolma's favorite pastime is watching local TV, which airs adaptations of Chinese classics such as "Three Kingdoms" and "Journey to the West", all translated into Tibetan.
Mobile phone services have long been available, but she was delighted when China Telecom, the country's largest telecommunications firm, introduced text messaging in Tibetan.
"It was a great step forward to retain the language, but it may need some improvement as the input is a bit difficult to operate," she says.
Tashi Drolma also chats online occasionally. "When I chat with Tibetans, I write Tibetan, and I use Mandarin with Han friends online."
Inputting Tibetan on a computer is a lot more convenient than on a mobile phone, she adds.