GUANGZHOU: Authorities here admitted Tuesday it will be a "tough challenge" to ensure better air quality before the 16th Asian Games kick off in November next year.
"It is our priority to improve Guangzhou's air quality for the Games. But it will be very tough," Chen Guanrong, deputy director of the Guangdong provincial environmental protection authority, said.
He added that the time of the year during which the Games are usually held is "relatively bad" in terms of air quality in Guangzhou.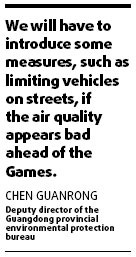 The Games are scheduled for Nov 12-27 next year.
"But we will do our best to improve the air quality without introducing special measures," Chen said.
However, he did not rule out the possibility of adapting a scheme, similar to what Beijing implemented for the Olympics, to ban vehicles with odd and even-numbered license plates from the streets on alternate days.
"We will have to introduce some measures, such as limiting vehicles on streets, if the air quality appears bad ahead of the Games," Chen said.
To improve the air, the city has worked out a series of measures, like removing heavy polluting industries along the banks of the Pearl River over the past few years, Chen said.
Days when Guangzhou's air is dusty and hazy dropped from 142 in 2004 to about 90 last year, according to a source in the local government.
Guangzhou was hit hard last year by heavy acid rains due to emissions of sulfur dioxide and nitrogen oxides, said Chen, as he called for integrated efforts from neighboring Pearl River Delta cities to tackle the problem of air pollution.
"We are working on a province-wide scheme to battle air pollution. We are aiming to build a comprehensive air protective system in the delta region," Chen said.
In an early interview with China Daily, Guangzhou mayor Zhang Guangning said the city will team up with neighboring cities like Foshan, Dongguan, Zhongshan and Shenzhen to establish a coordinative office, which will ensure air quality during the 16th Asian Games next year.