If you're wondering just what's brewing in Hangzhou this month, well the refreshing answer is that the city is poised to stage a major festival celebrating all things about tea.
Billed as "The 2009 China West Lake International Tea Culture Expo" this beverage-boosting bonanza will take place from March 27 to April 17 in the city, the capital of the eastern province of Zhejiang. The event is part of the city's campaign to lobby for the inclusion of West Lake as one of UNESCO's World Heritage sites.
As well as promoting West Lake's appeal to tourists, the three week long event will also emphasize Hangzhou's status as China's "Tea Capital" and its heritage as the home city for Longjing Tea or, as it is also widely known as, Dragon Well Tea.
The event, sponsored by the Hangzhou city government, the China International Tea Culture Research Association, the China Tea Science Society and the Zhejiang Tourism Bureau, will also showcase Hangzhou's achievements in urban renewal, environmental development and tourism.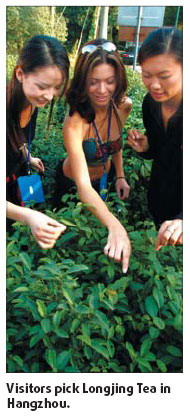 As well as taking tea, visitors to the expo will also have the opportunity to go cruising on the lake, learn more about the city and its culture, as well as discovering something of tea's long history in China and the many ceremonies associated with it.
A number of special events are promised as part of its three-week program.
Opening ceremony
The opening ceremony will be held on March 27 in Cimu Bridge Village, Zhuantang Street, West Lake District. This lavish ceremony will begin with the picking of this year's fresh tea crop and will include a celebration of Longjing Tea as an integral part of Chinese culture.
Longjing Tea exhibition
This exhibition, sponsored by the West Lake Administrative Committee, the Hangzhou Tourism Committee, and the China International Tea Culture Association, will showcase the long history of Longjing Tea, as well as its unique plantation and harvesting method.
It will also look at the ways in which the company has integrated new technology with its traditional approach to growing tea.
A group of industry professionals and guests will gather in the evening when more than 1,000 people will drink and appreciate Longjing Tea together.