Beijing -- The military parade for this year's National Day celebrations will showcase the nation's most advanced weaponry and latest technologies, while the air force will debut some of their new combat equipment, a former senior military official told China Daily on Monday.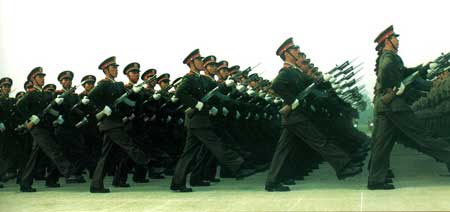 Soldiers walk in the phalanx during the military parade on the 50th National Day celebrations in Beijing, October 1, 1999. [file]
New armored vehicles, missiles and self-developed armed helicopters are slated to appear at the parade on October 1to mark the 60th anniversary of the founding of the People's Republic of China,  Li Qianyuan, a deputy of the National People's Congress (NPC) and a retired commander of the Lanzhou Military Zone said.
The highly-anticipated parade will showcase China's national defense capabilities with the army, the navy, the air force and the artillery units all displaying their updated armaments, Li said.
Beijing Military Zone Commander Fang Fenghui who is directing the celebrations told reporters in earlier interviews that the event will be organized and presented within a tight budget due to the gloomy global economy.
Fang said the military parade will spend every penny wisely, while promising to give the audience an element of surprise.