BEIJING -- China should establish catastrophe insurance as soon as possible, Wei Yingning, vice chairman of the China Insurance Regulatory Commission said here Sunday.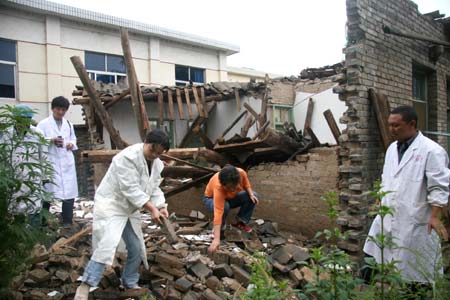 Staff members of a local hospital clear the ruins hit by the earthquake in Lixi Township, Huili County, southwest China's Sichuan Province, August 31, 2008. [Xinhua]
The country's current insurance coverage is incapable of offering adequate compensation for losses from catastrophes, said Wei, a member of the National Committee of the Chinese People's Political Consultative Conference.
Related readings:


NPC & CPPCC 2009
Related readings:


 Quake relief needs 1.3t yuan more


 $19 billion more for quake-hit Sichuan


 Sichuan official denies riot reports


 Sichuan a year ahead of schedule on reconstruction
About 30 percent of losses from catastrophes in developed countries are covered by insurers, and the proportion is lower than five percent in China, Wei said in a speech at a plenary meeting of the top political advisory body.
Huge losses in the rare blizzard in south China last winter and the massive May 12 earthquake in Sichuan Province added to the country's fiscal burden, he said.
The two disasters incurred losses of more than 150 billion yuan (US$21.9 billion) and more than 800 billion yuan, respectively.
The State Council, China's cabinet, should set up a joint team to lead the catastrophe insurance work, he suggested.
The catastrophe insurance should be framed in the country's disaster prevention and response system with pledged support in subsidies and favorable taxes, he added.
Both state and private capital should be mobilized to support the catastrophe insurance fund, the political advisor said.
Commercial insurers should be encouraged to offer compensation for catastrophe losses, he said.
"However, the government should step in when losses are beyond the capabilities of insurers."