The man that police claimed died in custody while playing hide-and-seek was the victim of a vicious assault by another prisoner, prosecutors said on Friday.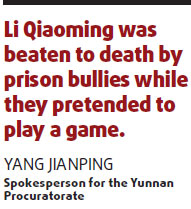 "Li Qiaoming was beaten to death by prison bullies while they pretended to play a game," Yang Jianping, spokesperson for the Yunnan Procuratorate, said at a press conference.
Several prison officials and police officers on duty at the time of the man's beating have been punished or removed from their posts, Yang said.
Yan Guodong, the deputy chief of the Jinning public security bureau; Yu Chengjiang, the prison warden; Jiang Yingyu, deputy warden; Li Dongming, a prison guard; and Zhao Zeyun, of the Jinning county procuratorate have been sacked for dereliction of duty.
Da Qiming, the head of the Jinning public security bureau, was given an executive demerit.
"On behalf of the police, I apologize to Li's family," Yang said.
The press release said prison bullies Zhang Houhua and Zhang Tao had frequently beaten Li after he was put in custody at the Jinning detention house on Jan 28.
At 5 pm on Feb 8, the pair and another prisoner Pu Huayong beat Li up after blindfolding him, they said.
Pu was found to have delivered the punch to Li's head that caused his death four days later.
The three men are now being investigated on suspicion of intentional injury, the press release said.
The Supreme People's Court got involved in the case after police claimed Li had died while playing hide-and-seek. The claim caused a public uproar, and the court sent a commissioner to oversee the work of Yunnan prosecutors.
Two bloggers were invited to join a special investigation committee that was allowed into Jinning detention house to consider the collected evidence.
However, in a report, the team said it had failed to "decipher or expose the truth of" Li's death.
The local government was later criticized by the public for letting amateurs investigate a serious crime, a move that lawyers said was illegal.