BEIJING -- China's National Bureau of Statistics (NBS) said in its annual report Thursday that the energy consumption per unit gross domestic product (GDP) fell 4.59 percent in 2008 as the government vowed to improve energy efficiency.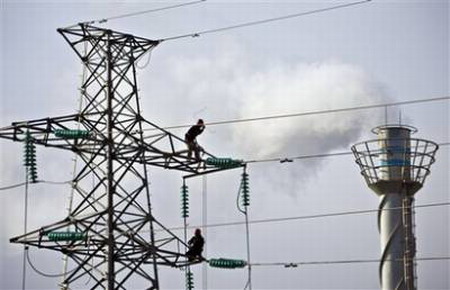 In this Nov. 18, 2008 file photo, Chinese men work on an electricity pylon near a smoking chimney of a heating plant in Beijing. [Agencies]
The figure was slightly higher than the NBS's previous estimation of 4.21 percent.
Related readings:


 China doubles energy-efficient light bulb subsidy


 Energy: Can coal, power firms overcome their stalemate?


 Survey: Chinese willing to stump up for clean energy


 Clinton: US made mistake in energy efficiency
The Chinese government vowed to reduce energy consumption per 10,000 yuan GDP by 20 percent in the five-year period from 2006 to 2010. The figure in 2007 stood at 3.66 percent.
The report also reduced the direct economic losses caused by natural disasters in 2008 to 1.1752 trillion yuan (US$171.2 billion), from the previous estimation of 1.35 trillion yuan by the Ministry of Civil Affairs earlier this month.
The direct economic losses, which include the 8-magnitude Sichuan earthquake last May that caused 845.1 billion yuan worth losses, was 4 times higher than that of 2007.
Other major figures, including GDP growth, Consumer Price Index, and foreign exchange reserves, remained unchanged.
The NBS said the data released in the report was still a preliminary version.