BEIJING -- The China Iron and Steel Association (CISA) said Monday that the aggregate net profit of 71 medium-sized and large steel producers fell 43 percent in 2008 as weak demand drove down prices.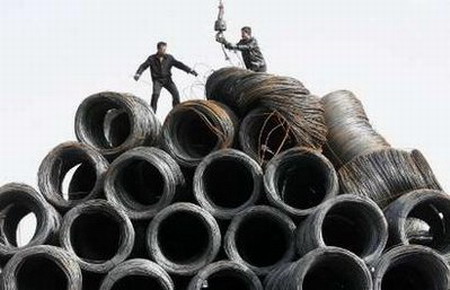 Workers transport steel wire rod coils at a steel market in Taiyuan, Shanxi province February 19, 2009. [Agencies]
Net profit was 84.6 billion yuan (US$12.4 billion), CISA said, while sales climbed 24.7 percent year on year to 2.57 trillion yuan.
The 71 producers earned 101 billion yuan of net profit in the first half of 2008, but they lost 16.4 billion yuan in the second half as costs rose while selling prices declined.
CISA also said 15 steel producers recorded full-year losses totaling 8.5 billion yuan.
A composite index measuring the domestic steel prices fell 36 percent by the end of December compared with six months ago.
Idle Capacity
Last year China's crude steel output edged up 1.13 percent to 500.5 million metric tonnes. The growth rate was 14.5 percentage points lower than a year ago.
The steel production capacity reached 660 million metric tonnes by the end of last year, which shows some 160 million metric tonnes of capacity were left idle.