GUJIAO, Shanxi: Three coal mine executives were removed from their posts in the wake of a fatal gas blast that killed 74 miners in north China's Shanxi Province Sunday, said a source from the State Administration of Work Safety Monday.
The three executives were said to be the chief of Tunlan coal mine,the engineer-in-chief and a deputy chief of the coal mine in charge of work safety, according to a Xinhua report.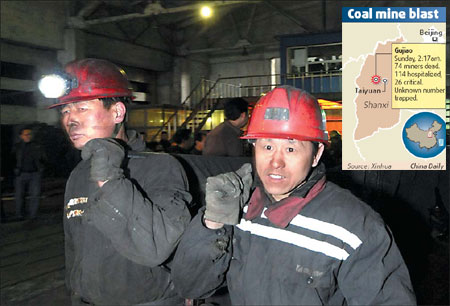 Rescuers carry a miner out of a coal shaft hit by a gas explosion in Gujiao, Shanxi province, Sunday. [China Daily]
No further details regarding their identities are available at the moment.
At least 74 miners died and an uncertain number of others is still trapped underground - and feared dead - after a gas blast early Sunday at one of China's safest collieries in Shanxi province.
Related readings:


 74 killed in coal mine explosion


 Top leaders call for all efforts to rescue workers


 Rescue underway after coal mine blast in Shanxi


 96 trapped in north China coal mine accident
The blast occurred at 2:17 am while 436 employees of the Tunlan Coal Mine were at work underground in Gujiao city, 60 km west of Taiyuan, capital of the coal-rich province.
Aside from the dead, 114 miners were hospitalized, of which 26 were in critical condition as of Sunday night.
Rescue work officially ended as of 6 pm Sunday. Rescue headquarters confirmed that the death toll stood at 74, without announcing the number of miners still trapped - or whether anyone is still trapped at all.
In any event, the actual number of casualties may still rise. Earlier reports in the afternoon by Xinhua, which put the number of deaths at 44, said at least 65 miners remained trapped underground.
No official explanation on the confusion has been offered.
Three days before the blast, Wang Jun, governor of Shanxi, had just warned the province "had run out of tears to shed" when reviewing local work safety situations during a conference in Taiyuan.
By the pit where life and death parted here deep in the mountains, an anonymous recorder on duty at the mine recalled that the first batch of rescuers reached the site at around 3:20 am.
A total of 57 rescuers, some from other places including Taiyuan, worked in the pit during the half-day rescue phase, according to a local police officer.
But Gujiao residents said the number was far from enough.
"The rescue team here with the mine has been severely understaffed, as its mother company is based in Taiyuan," nearby villager and former Tunlan miner Kang Changqing told China Daily.
Though his Liangzhuang village sits 3.5 km away, Kang, 46, said people there were the first to find out about the blast and call police.
"Two intakes of the pit were built by the road just outside my home in Liangzhuang," he said, noting that most villagers were woken up by "two tremendous explosions" at around 2:18 am.
As the explosions took place more than 400 meters deep underground, mine watchers were not the first to find out about the accident, according to other villagers.
"The part of the intakes above ground was totally destroyed. Luckily for us, the explosions happened at night when no one was around," Kang said.
The current death toll suffices to make this the most lethal accident reported in China's disaster-prone mining industry since 276 people died in the collapse of an unlicensed iron ore reservoir last September, also in Shanxi.
Top leaders urge all-out efforts
President Hu Jintao and Premier Wen Jiabao issued instructions to do everything possible to save those still trapped inside the mine, state television reported.
Earlier reports said that more than 300 miners escaped alive.
Most of the miners who rushed to hospital after the accident had suffered carbon monoxide poisoning, Xinhua said, citing doctors at the Xishan Hospital of Coal and Electricity.
A photo posted online showed one of the survivors, apparently unconscious and with a blackened face, being rushed to medical treatment.
After climbing out of the deadly pit, the rescuers, some with a cellphone on each hand, wasted no time to call their homes.
"If I don't call them immediately, they would start worrying about my safety and mental health," a rescuer surnamed Zhao told China Daily. "My family may think I've gone crazy after being through all this every time," he said.
Zhao, part of the provincial mine rescue team, began work immediately after reaching the pit in the morning and did not came out from underground till 5:30 pm.
"Seeing horrific things – that's just about what my daily life is like. Higher officials may never see things I see," he added, pointing at the temporary rescue command centre.
The Tunlan mine, which has an annual capacity of five million tons, is operated by the Shanxi Jiaomei Group. With no accidents reported over the past decade, it is considered one of the safest and most advanced mines in the province.
A total of 3,786 coal miners died in gas blasts, floods and other accidents in 2007 as companies, often flouting safety regulations, rushed to feed demand from a booming economy.
The number of coal-related deaths fell to roughly 3,200 last year, after thousands of small, mostly unlicensed mines across the country were closed.