GUJIAO, Shanxi -- The death toll in north China's coal mine blast rose to 74 as of 6 p.m. Sunday after one more body was retrieved from the shaft, the rescue headquarters said.
The headquarters did not specify how many bodies were found in the mine shaft, only saying the fatalities included bodies found by rescuers in the mine and workers who died in hospital care.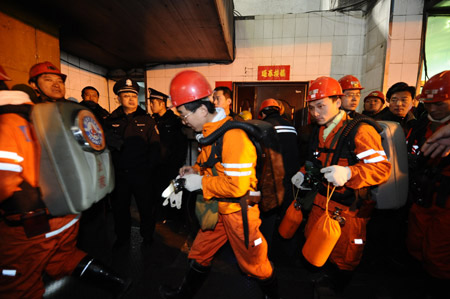 Rescuers prepare to enter a coal mine shaft, which was hit by a blast in the city of Gujiao, in North China's Shanxi province, February 22, 2009. 
[Xinhua]
Rescuers said that among 114 hospitalized miners, six are in critical condition.
The accident occurred at 2:17 a.m. Sunday while 436 miners were working underground at the Tunlan Coal Mine of Shanxi Coking Coal Group in Gujiao City, about 50 km away from Taiyuan, the provincial capital.
As of 1 p.m., 65 miners were confirmed to be trapped in the mine.
The Tunlan Coal Mine with an annual production capacity of 5 million tonnes boasts one of the best mining facilities in China. The mining company, Shanxi Coking Coal Group, is China's largest coking coal producer.
The mine has had no major accidents for the past five years.
Related readings:


96 trapped in Shanxi mine accident


Eight dead in coal mine accident


Coal mine deaths drop 15% in 2008


Coal mine deaths fall to 14-yr low
Xue Huancheng, 27, said on his hospital bed that he had been working in the coal mine for four years.
"We didn't feel anything unusual before the accident this morning," recalled Xue, a native of Shanxi.
He told Xinhua that when the accident occurred, they just felt choked. At about 3:30 a.m., someone outside the shaft told them that "the ventilation system broke down," and ordered the miners to escape.
"At that time power supply underground was cut off and we had to walk," he said.
Fortunately, Xue had received regular trainings for self-rescue, which the mine conducts twice a year. After walking for about 40 or 50 minutes, he switched on his personal oxygen tank, but fainted when he was about to reach the exit.
Xue woke up at 5:30 a.m. in the hospital.
"I still felt dizzy and doctors brought me oxygen bottles. They measured my body temperature, blood pressure and recorded the electrocardiogram for me," he said, adding that he felt better by noon.
Most of the miners suffered carbon monoxide poisoning, according to doctors in the Xishan Hospital of Coal and Electricity in Gujiao, one of the nearest hospitals to the mine.
All of the 68 hyperbaric oxygenic chambers in hospitals in Taiyuan are open for admitting the injured miners.
Zhang Baoshun, the provincial Communist Party committee chief, who is leading the rescue work at the accident site, called for effective rescue efforts to prevent secondary disasters.
So far, 80 rescuers from seven professional rescue teams were searching for trapped miners.
A rescuer told a Xinhua reporter Sunday morning that some relatives of the trapped miners said had received cell phone calls from their loved ones in the mine, which meant they were still alive.
More than 40 ambulances have been called to the accident site to provide the first aid.
Luo Lin, head of the State Administration of Work Safety, and Zhao Tiechui, head of the State Bureau of Coal Industry, arrived at the accident Sunday afternoon.
Huang Yi, spokesman for the administration, urged all mining companies to carry out safety overhaul.