Chinese lawyers have filed a motion to a French court seeking an injunction to stop auction house Christie's putting two bronze relics looted from China under the hammer, lawyers said Friday.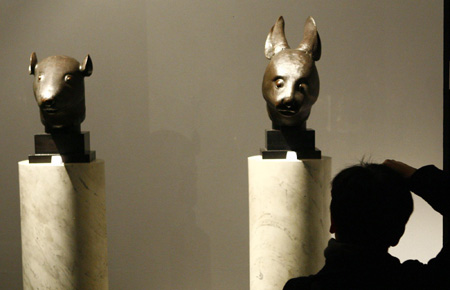 A bronze rabbit head and rat head made for the Zodiac fountain of the Emperor Qianlong's Summer Palace in China are displayed during the exhibition of the private art collection of French fashion designer Yves Saint Laurent and his partner Pierre Berge at the Grand Palais in Paris February 21, 2009.[Xinhua] 
The application was submitted to a Paris court Thursday night, four days before the auction scheduled to be held from Feb. 23 to 25 in Paris, said Liu Yang, head of a group of almost 90 lawyers.
Bernard Gomez, president of the Association for the Protection of Chinese Art in Europe (APACE), has agreed to be the applicant for property preservation of the two bronze rabbit and rat head sculptures, he said.
The Qing Dynasty (1644-1911) relics adorned the imperial summer resort Yuanmingyuan. They were looted when the palace was burnt down by Anglo-French allied forces during the Second Opium War in 1860.
The items currently belong to the Yves Saint Laurent Foundation and were put up for auction by the late fashion magnate's partner, Pierre Berge.
"If the court motion for injunction fails, we will participate in the auction and decide what to do next," Liu said.
The lawyers wrote to Christie's last week to stop the sale of the two items, saying they would sue Pierre Berge if Christie's puts the bronzes up for auction. But Christie's said the auction would proceed as scheduled.
Christie's public relations officer in China, Chen Yan, said the proceeds from all items in the Yves Saint Laurent and Pierre Berge collection will go to charity.
The owners provided legal documents confirming their legal possession of all the articles, including the two bronze sculptures, Chen said.
The items were expected to fetch 8 million to 10 million euros ($10.4 million to $13 million) each.
Liu said the Global Aixinjueluo Family Clan, a civil society registered in Hong Kong, has agreed to be the plaintiff. Aixinjueluo is the clan name of the emperors of the Qing Dynasty.
The looted relics should be returned to China. China has undoubted ownership to these relics, said a statement of the administration of the old Summer Palace.