YINCHUAN -- Although the Chinese housing market has continued to slump since the beginning of 2009, the housing price in Yinchuan, capital of northwest China's Ningxia Hui Autonomous Region, boasts the country's biggest increase rate in the last six months.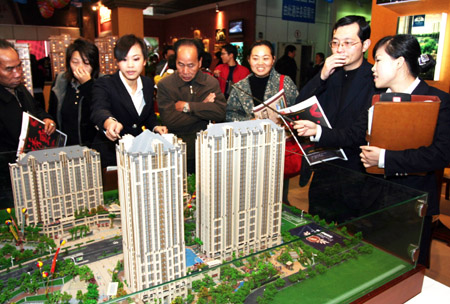 Sales people introduce a residential compound to visitors at the 19th Fuzhou Real Estate Trading Fair in Fuzhou, capital of southeast China's Fujian Province, Dec. 25, 2008. [Xinhua] 
Housing prices in the country's 70 major cities fell 0.9 percent from a year earlier, according to a joint statement issued this week by National Development and Reform Commission and the National Bureau of Statistics.  Housing prices in some eastern cities, such as Shenzhen, even fell by 16.5 percent in January.
However, the country's relatively economic backward city Yinchuan, leads an upward trend, as the new home price there rose 8.8 percent year- on-year in January. The apartments in the city's downtown areas are now sold at above 4,500 yuan (about US$605) per square meter.
Even so, the new home price in downtown Yinchuan only accounted for one fifth of that in Beijing or Shanghai, which is about 20,000 to 30,000 yuan per square meter on average.
"Only three years ago, the average housing price here was below 3,000 yuan per square meter," Ma Jun, a real estate researcher said on Saturday. "The housing price keeps going up, but the average yearly income of Yinchuan residents has stood at about only 14,400 yuan."
The city's migrant population is said to be responsible for shoring up the ever-growing housing price. The migrant population purchased more than 12 million square meters of apartments, which accounts for more than 57 percent of the total housing market sales in 2008, said Ma Jun.
Yinchuan, dubbed as "city of migrants," has a total population of 1.4 million.
Housing prices in underdeveloped west parts of China used to be low, and those low price attracted many migrant homebuyers, Liu Xueli, an official of the city housing department, told Xinhua. Liu said that most of the buyers don't intend to live there, but buy there as an investment shift from big cities.
Some Chinese experts claim that China's real estate sector will revive after September, yet financial institutions see dim prospects of investment in the sector.
Even developers in Yinchuan, who benefited from the housing price surge, have started to contract their business scale.
"The housing price surge in Yinchuan shows regional disparity does exist in the real estate sector, but there's no haven for the sector's development," said Liu. "The housing market slump in China may help China's real estate sector back on its track."