CHENGDU -- A quake-hit township in southwest China's Sichuan Province has returned to calm after a villagers-police clash caused by a dispute over relief subsidies allocation, local authorities said Friday.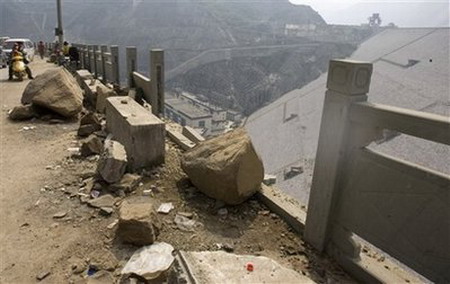 In this May 15, 2008 file photo, earthquake damage is seen next to the Zipingpu Dam in Dujiangyan, in southwestern China's Sichuan province. [Agencies]
The conflict occurred at 9:40 am Wednesday when about 20 villagers surrounded the police station in Baolin Township, Anxian County of Mianyang, asking for the release of their family members detained for beating Zhou Lujin, chief of Yongquan Village, after a quarrel over subsidies allocation, said Zhou Baoquan, a publicity official of the county.
Related readings:


 Crowds return to quake-hit sites


 Quake-hit provinces get ADB loan for rebuilding


 Quake survivor ballets her way to school
Mianyang was one of the worst hit cities in the devastating May 12 earthquake last year.
In the quarrel, five villagers, led by Yi Jianqiong and her husband Wang Daisen, claimed that they did not receive the quake-relief subsidies. But Zhou Lujin said he had handed the money to Yi's father. The five then beat the village chief, the official said.
He said Zhou Lujin suffered multiple injuries.
"Nobody died in the incident on Wednesday," he noted. "The death of Wang Changyuan, father of Wang Qiongfang, one of the detainees, had nothing to do with the incident," Zhou Baoquan said.
An autopsy showed that the man died in hospital Wednesday as a result of drinking pesticide over a family dispute on February 6, he said.
About 100 policemen gathered in the township to restore order Wednesday. The crowd dispersed at around 5 p.m. that day.
Some police and villagers were injured in Wednesday's clash, Zhou Baoquan said.
The local government is investigating villagers' complaints over subsidies allocation, he added.