GUANGZHOU -- An office building of 25 stories in downtown Guangzhou, capital of south China's Guangdong province, caught fire Friday morning. No casualties have been reported.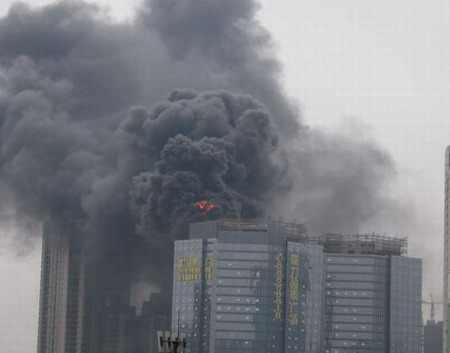 Dark smoke rises from a tower in downtown Guangzhou, south China's Guangdong province February 20, 2009. [southcn.com]
Witnesses said the fire started at about 11 a.m. with thick smoke on top of the Fuli Yingtai Plaza in the Tianhe District. The blaze was put out about 10 minutes later.
Six fire engines were dispatched for the rescue operation.
Scaffolds are seen outside the building. Local residents said it is under construction and yet to be put into use.
A fireman said an air-conditioner on the top floor caught fire first and then spread to the building, but the blaze did not spread to other floors.