JINAN -- A reporter whose story of a businessman's contest to decide which mistress to keep was fired after he was found to have plagiarized, according to a Wednesday statement of the local newspaper in east China's Shandong Province.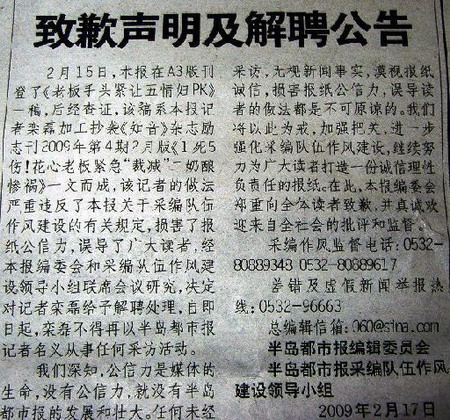 Peninsula Metropolitan News apologizes to the public for unvetted plagiarism by its reporter in a Feb. 17 statement, in Qingdao city, East China's Shandong province. [hsw.cn]
The reporter with Peninsula Metropolitan News (PMN) in Shandong published his story Sunday, saying a businessman surnamed Fan supporting five mistresses in the coastal city of Qingdao decided to keep only one as his company ran into tough times.
He held a contest to decide which one should stay. One of the mistresses who lost in the contest drove the businessman and the four other women off a mountain road for revenge. The driver died while the other five were injured, the story said.
It was found the story was copied from a magazine based in Wuhan, capital of central China's Hubei Province, according to the statement of the PMN.
The story just changed the names of the people, according to Zhang Xin, editor-in-chief of PMN,
"We are checking whether the story is true," Zhang said.
Traffic police in Qinghdao said they never handled the accident and the sites mentioned in the story do not exist in Qingdao.
Police said they are checking the facts with the magazine called Zhiyin, or Soul mate.
The PMN apologized to the public for the incident.
"Any act of ignoring fact, impairing the newspaper's credibility and misleading readers cannot be forgiven," the statement said.