CHENGDU -- Rebuilding of the state-level Wolong Nature Reserve, a major panda breeding base ruinously hit by the massive quake in May 2008, is scheduled to start this spring, an official told Xinhua.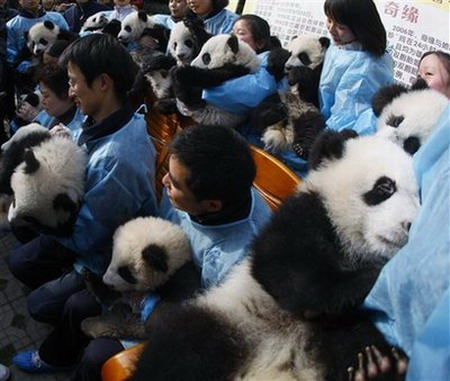 Workers hold panda cubs born in 2008 for a group photo at Chengdu Panda Breeding and Research Center in Chengdu, southwest China's Sichuan province January 21, 2009. [Agencies]
According to Zhang Hemin, head of the administration of the reserve, the bulk of the funds for the reconstruction will come from Hong Kong.
Related readings:


 Quake-hit panda reserve awaits Hong Kong aid


 Giant pandas born in captivity reach 268 in China


 Pandas face tough time this winter


 Hungry giant pandas face tougher winter - official
The reconstruction will primarily benefit wild panda protection, a research institution and infrastructure, Zhang said.
The new reserve includes 25 projects funded by Hong Kong, totaling about 1.3 billion yuan (about US$191 million), and 19 projects funded by the state forestry administration, totaling about 270 million yuan.
The reconstruction also involves spending 100 million yuan for the resettlement of local residents as the original vegetation had been damaged during the quake and the reserve has to choose new habitats.
Wolong reserve, 10 kilometers away from the epicenter, was severely damaged in the quake last year. The quake left one panda dead and another missing.
The reserve had been in operation since 1963 and had 143 wild pandas in the third national panda count in 2000, taking 10 percent of the total across the country. It had 128 captive pandas, taking 60 percent of the world's total.
The new reserve would protect the animal in a more scientific way, Zhang said.
Research institutions and protection facilities will be built, such as the China Panda-protection Research Center, Panda Disease Control Center, and hospitals.
Residents will be transferred to 14 permanent residences as there former residences will be cleared for the planting of bamboo, Zhang said.
The damaged original 4,500 hectare habitat will be closed.
"The reserve will be built to be a first class protection base and research center in the world," he said.