BEIJING - The firefighter who died Monday when battling a fire at the new China Central Television (CCTV) headquarters gave his life to save a trapped man, said his coworker in an interview with Xinhua.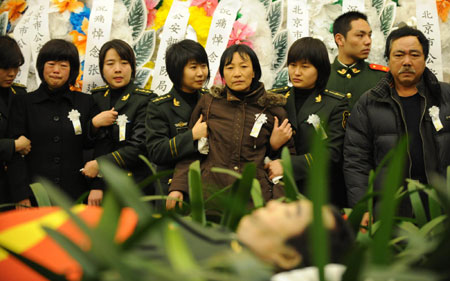 Relatives and colleagues mourn the death of firefighter Zhang Jianyong, who died Monday when battling a fire at the new China Central Television (CCTV) headquarters, Beijing, February 14, 2009. [Xinhua] 
Yang Yi, Zhang Jianyong's fellow firefighter, who went in to the building with him that fateful day, said Zhang gave his respirator to a man trapped on the 14th floor.
"The man inhaled too many fumes and was in critical condition. Zhang took off his respirator and gave it to the man," Yang said. "Zhang told us,we must take him downstairs."
Zhang, political instructor of the Chaoyang branch of the Beijing fire brigade, later died at a hospital around 3 a.m. Tuesday. He inhaled toxic fumes and his respiratory tract was seriously injured.
Zhang was among the first to arrive at the scene. He led a team of four firefighters, including Yang, in to the building. Later, he lost contact with headquarters, said Luo Yuan, an official of the Beijing Public Security Bureau.
Yang did not know the identity of the man who was rescued or what condition he was in. Yang himself suffered from smoke inhalation and was hospitalized as were five other firefighters and a construction worker.
On Saturday, more than 800 people gathered to mourn Zhang's death.
Zhang, born in northeast China's Liaoning Province, was expected to celebrate his 30th birthday February.
His wife, Gao Yan, left a note on a funeral wreath which read, "Your appearance and voice passed away, but your love is eternal."
Six students from Beijing No. 3 Middle School were among the mourners.
"We are really moved after getting to know Zhang's story. We come here to say farewell to the hero."
Beijing police detained 12 people for allegedly causing the fire with banned fireworks. Xu Wei, 50, one of the detained, was in charge of civil construction of CCTV's new site in eastern Beijing's central business district.
CCTV has apologized for setting off powerful illegal fireworks that are blamed for sparking the fire which destroyed a 30-storey building. It was supposed to house the nearly-completed luxury Mandarin Oriental Hotel and a television studio.
The fire started at 8:27 p.m. Monday and was put out at around 2 a.m. Tuesday.