HENGYANG, Hunan -- Authorities in central China's Hunan Province tried to dispel public fears Friday, two days after bangs and tremors from a military exercise led 100,000 residents to take to the streets.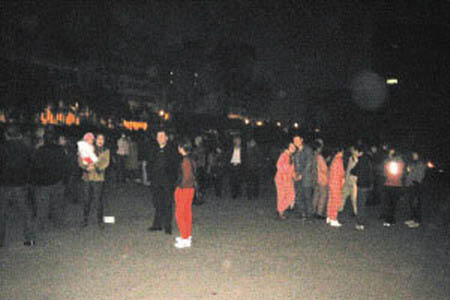 Crowds take to the streets at night after bangs and tremors from a military exercise lead to public suspicion of earthquake in Hengyang city, Central China's Hunan Province Thursday Februray 12, 2009. [rednet.cn]
"No quake was monitored by the municipal, provincial or national seismic networks in and near Hengyang City on Wednesday," the city government said in a statement published on its website. The government said a military exercise held by an Air Force brigade in Hengyang between 1 p.m. and 11 p.m. caused the tremor.
Loud bangs were heard and tremors felt at around 8 p.m. Wednesday in Hengyang and the neighboring cities of Zhuzhou and Chenzhou. Suspicion of a possible earthquake spread rapidly over the phone and on the Internet. Thousands of panick-stricken residents slept on the streets.
"I received at least 200 phone calls that night," said Hou Lianwen, a village official in the outlying Anren County, "everyone asked whether there had been a quake."
Hou said he, too, felt the window panes shaking when he was at dinner table. "Many villagers moved their beds out on the streets. But no houses collapsed in the village."
The Anren county government published a circular on its website Thursday, saying the provincial earthquake bureau confirmed that no quake had been detected in or near Hunan Province.
"Apparently, the residents are more vigilant after the strong earthquake hitting Sichuan Province last May," said Liu Xinghua, an official in Zhushan Village of Anren.
Liu said he worked until 3 a.m. Friday trying to persuade villagers to go back home. "Many of them still feel unsafe."