The real estate boom seems to have petered out in Shanghai with sellers outnumbering buyers as more and more investors look to exit the sector that triggered the economic crisis.
The buzz of activity associated with growing global investments in the region is slowly abating as foreign real estate acquisitions in 2008 have declined sharply.
Foreign acquisitions totaled 16 billion yuan in 2008, down 26 percent from 2007 and 12 percent from 2006.
Leading the pack of real estate sellers in the city is Hong Kong billionaire Li Ka-shing. Li has decided to sell nearly 40 retail booths in the mixed-used Gubei Mansion des Artistes along Golden City Street.
A salesman from Li's Gubei Mansion des Artistes told China Daily that over 20,000 sq m of retail property has been put on the market at a price of 100,000 yuan per sq m. Investors from Wenzhou have booked booths worth 100 million yuan so far, said the salesman.
"It is obvious that Li's Hutchison Whampoa is in desperate need of cash. There is no other reason why the company would sell the booths a la carte instead of the wholesale way," said Regina Yang, head of research at property consultant Knight Frank.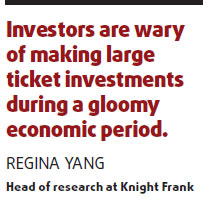 Shanghai Securities News yesterday reported that Morgan Stanley is putting up its Shanghai properties for sale, including Infiniti Plaza, Donghai Plaza, and Anxin Business Plaza. The company had already put its Jinlin Tiandi Residences up for sale in June last year at a sale price of around 1.1 billion yuan.
Jinlin Tiandi still remains unsold due to the financial crisis and the resulting cash flow problems of potential buyers.
"Investors are wary of making large-ticket investments during a gloomy economic period. The high prices quoted by Morgan Stanley for a property that is not worth as much, have also kept off the buyers," said Yang.
Macquarie Group Ltd of Australia has slashed the selling price of City Apartments, located in downtown Shanghai, to 18,750 yuan per sq m, almost 25 percent off from three years ago when it purchased the high-end residential property.
However, sources said interested purchasers were willing to offer only 17,000 yuan per sq m.
Yuyuan Tourist Mart, Shanghai's traditional department store inside Cheng Huang Temple, almost got sold, but the unexpected financial crisis chased away the buyers. "I think it could hardly find a buyer even after lowering the sale price to below 500 million yuan," said Xue Jianxiong, a senior analyst with E-house Real Estate Research Institute.
The list of unsold properties in the city also includes Gaw Capital's Plaza 353 and Deluxe Family's La Baie D'evian.
The stark reality of buyers keeping away came to light in the fourth quarter of 2008 with no new transactions involving foreign investors occurring in Shanghai, according to a recent report from property consultancy Jones Lang LaSalle.
"Several factors played a role in the slowdown of foreign money; however the main driver was restrictions placed by the central government on the 'hot-money'," said Greg Hyland, national director of investments with JLL Shanghai.
Global factors such as the overall lack of liquidity in credit markets around the world also played a large role as many foreign investors were unable to raise enough capital or leverage for investments.
On top of this, many foreign investors are beginning to revisit investment opportunities in developed markets since declines in capital values in these markets have occurred more rapidly, presenting high return possibilities in a perceived lower risk environment, Hyland added.
(China Daily 01/09/2009 page13)