BEIJING – A Beijing Zoo panda known for his bad temper has tasted human blood for the third time, attacking a man who jumped into the animal's enclosure to retrieve his son's toy, state press said Thursday.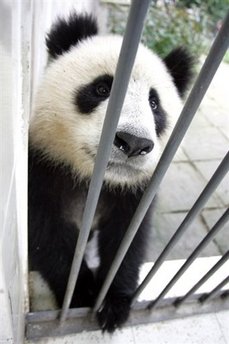 File photo shows a Giant Panda at a breeding research centre in Ya'an in China's southwest Sichuan province.  [Agencies] 
Gu Gu, one the venue's star attractions, delivered deep bites to both of the man's legs on Wednesday before a zoo staffer arrived to shoo the animal away, the Beijing Morning Post said.
The man, a visitor from central Anhui province identified only by his surname, Zhang, had jumped in after failing to find a zoo employee to retrieve the toy for him, it said.
"The panda bit into the man's right leg, and when he was done with that, he bit the left leg," it said.
The man was hospitalised but not in serious condition, the report said.
It was the third such incident for Gu Gu.
In 2007, the panda attacked a boy, 15, who had jumped into his enclosure, gnawing his legs to the bone, press reports at the time said.
A year earlier he bit a chunk out of the leg of a drunken man who had jumped into the enclosure to "hug" the cuddly animal, according to reports.
Pandas, native to China, have a wild streak and are capable of attacking humans, especially if they feel threatened, experts say.
Such attacks are frequent in China, where zoo-goers often approach the animals for a closer look.