Lineup of ministers approved
By Bao Daozu (China Daily)
Updated: 2008-03-18 07:19
Lawmakers approved the new lineup of the State Council yesterday to lead the country's social, economic and administrative reforms in the next five years.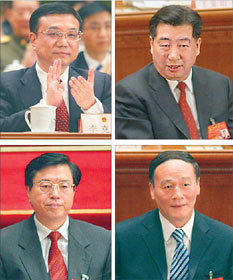 Clockwise from top left: Newly-appointed vice-premiers Li Keqiang, Hui Liangyu, Wang Qishan and Zhang Dejiang at the session of the 11th National People's Congress yesterday. Xu Jingxing
Former Liaoning Party secretary Li Keqiang was appointed vice-premier at the ongoing session of the 11th National People's Congress (NPC).
The other three vice-premiers are Hui Liangyu, who is already serving in the post and oversees agriculture, former Guangdong Party chief Zhang Dejiang and former Beijing mayor Wang Qishan.
Liu Yandong, former minister of the United Front Work Department of the Communist Party of China Central Committee, was elected state councilor.
New Defense Minister Liang Guanglie, former head of the National Development and Reform Commission (NDRC) Ma Kai, national police chief Meng Jianzhu and senior diplomat Dai Bingguo were also appointed state councilors. Ma was elected secretary-general of the Cabinet as well.
Other appointments approved by nearly 3,000 NPC deputies included 25 ministers, Zhou Xiaochuan as governor of the People's Bank of China and Liu Jiayi as auditor-general of the National Audit Office.
Apart from Liang Guanglie and Liu Jiayi, there are nine new faces among the Cabinet level ministers. They include NDRC Minister Zhang Ping; National Nationalities Affairs Committee Minister Yang Jing; Minister of Culture Cai Wu; and State Population and Family Planning Commission director Li Bin.
The other five are heads of the "super-ministries" newly created in the institutional restructuring plan of the State Council. They are: Li Yizhong, minister of industry and information; Yin Weimin, minister of human resources and social security; Jiang Weixin, minister of housing and urban-rural construction; Li Shenglin, minister of transport; and Zhou Shengxian, minister of environmental protection.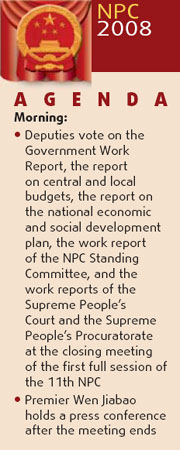 Legislators yesterday also endorsed the composition of eight special committees of the 11th NPC, such as the law committee, the ethnic affairs committee and the internal and judicial affairs committee.
The new leadership faces pressing challenges. Official figures show that inflation climbed to a 12-year high of 8.7 percent last month, driven by a 23.3 percent jump in food prices. The government's target is to contain inflation to 4.8 percent this year, the same level as last year.
Holding a safe and successful Beijing Olympic Games is also a key task this year.
Apart from these, reduction of energy consumption, environmental protection, and the resolution of social problems such as education and medical reforms have also been listed as major tasks for the government.
"Some members of the new Cabinet have held posts both in local governments and departments under the State Council and they are quite capable of handling economic issues," said Dalielihan Mamihan, an NPC deputy from the Xinjiang Uygur autonomous region.
They are familiar with deep-rooted problems of the nation, and thus will help solve thorny issues in the economic and social sectors, he said.
Another deputy, Wang Shengxi from Jiangsu province, said the new State Council should improve policies on macro-economic regulation, and provide affordable housing and social security. He also said he hopes the Cabinet continues to increase spending on education and health.
(China Daily 03/18/2008 page1)